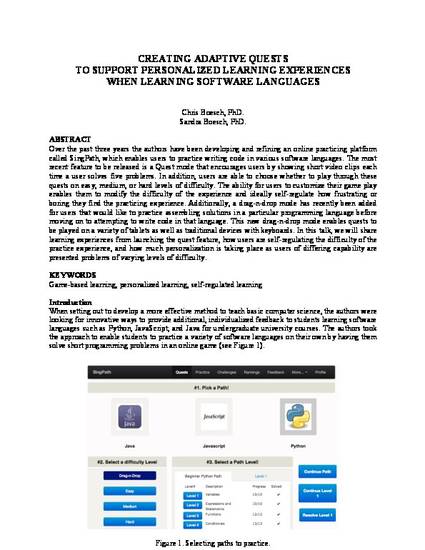 Article
Creating Adaptive Quests to Support Personalized Learning Experiences when Learning Software Languages
63rd Annual Conference International Council for Education
Publication Type
Conference Proceeding Article
Abstract
Over the past three years the authors have been developing and refining an online practicing platform called SingPath, which enables users to practice writing code in various software languages. The most recent feature to be released is a Quest mode that encourages users by showing short video clips each time a user solves five problems. In addition, users are able to choose whether to play through these quests on easy, medium, or hard levels of difficulty. The ability for users to customize their game play enables them to modify the difficulty of the experience and ideally self-regulate how frustrating or boring they find the practicing experience. Additionally, a drag-n-drop mode has recently been added for users that would like to practice assembling solutions in a particular programming language before moving on to attempting to write code in that language. This new drag-n-drop mode enables quests to be played on a variety of tablets as well as traditional devices with keyboards. In this talk, we will share learning experiences from launching the quest feature, how users are self-regulating the difficulty of the practice experience, and how much personalization is taking place as users of differing capability are presented problems of varying levels of difficulty.
Keywords
Game-based learning,
personalized learning,
self-regulated learning
City or Country
Singapore
Creative Commons License
Creative Commons Attribution-Noncommercial-No Derivative Works 4.0
Citation Information
Boesch, Chris and Sandra Boesch. 2013. "Creating Adaptive Quests to Support Personalized Learning Experiences When Learning Software Languages." Paper presented at the 63rd Annual Conference International Council for Education, Singapore, October 1-4.