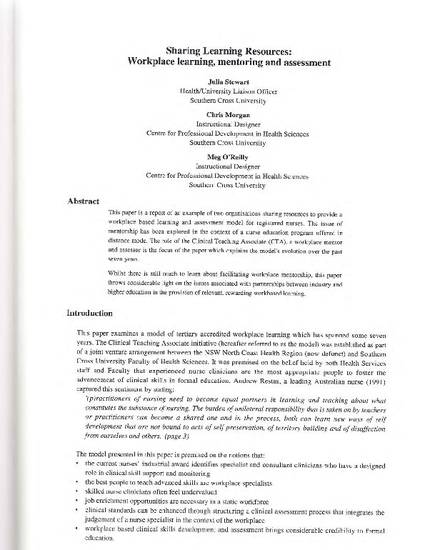 Presentation
Sharing learning resources: workplace learning, mentoring & assessment
Access through open learning : sharing learning resources : opportunities for universities, TAFE and other education providers: Occasional Papers in Open Learning
Publication Date
1-1-1996
Abstract
This paper is a report of an example of two organisations sharing resources to provide a workplace based learning and assessment model for registered nurses. The issue of mentorship has been explored in the context of a nurse education program offered in distance mode. The role of the Clinical Teaching Associate (CTA), a workplace mentor and assessor is the focus of the paper which explains the model's evolution over the past seven years. Whilst there is still much to learn about facilitating workplace mentorship, this paper throws considerable light on the issues associated with partnerships between industry and higher education in the provision of relevant, rewarding workbased learning.
Citation Information
Morgan, C, O'Reilly, M & Stewart, J 1996, 'Sharing learning resources: workplace learning, mentoring & assessment', in A Ellis (ed.), Access through open learning : sharing learning resources : opportunities for universities, TAFE and other education providers: Occasional Papers in Open Learning, vol. 6, Norsearch Ltd., Lismore, NSW.