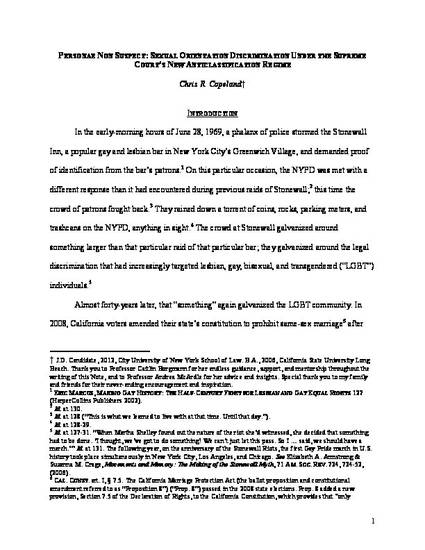 Article
PERSONAE NON SUSPECT: SEXUAL ORIENTATION DISCRIMINATION UNDER THE SUPREME COURT'S NEW ANTICLASSIFICATION REGIME
Georgetown Journal of Law and Modern Critical Race Perspectives (2011)
Abstract
As Perry v. Schwarzenegger seemingly makes its way to the Supreme Court, LGBT advocates are staking their legal claims around the Fourteenth Amendment's Equal Protection Clause – arguing for the designation of LGBTs as a suspect or quasi-suspect group. The desire for suspect class designation is in vain though. In the late 1970s, the Supreme Court closed the set of suspect and quasi-classifications, and the set will likely remain closed. Around the same time, the Court faced a series of affirmative action cases in which it was forced to choose between two approaches to equal protection: antisubordination and anticlassification. It chose; the anticlassification approach came to control the Court's equal protection jurisprudence. This Note contends that the Supreme Court's choice, on one hand, to elevate the anticlassification approach above antisubordination, and the Court's refusal, on the other hand, since the late 1970s to designate any more groups as suspect or quasi-suspect, were not mutually exclusive events. Rather, this Note argues, the former caused the latter. With Perry v. Schwarzenegger in mind, this Note offers the LGBT community an alternative way of thinking about litigation strategy by casting light on the Supreme Court's new approach to equal protection.
Keywords
LGBT,
Marriage Equality,
Perry,
Affirmative Action,
Gay Marriage,
Race
Publication Date
Fall 2011
Citation Information
Chris R Copeland. "PERSONAE NON SUSPECT: SEXUAL ORIENTATION DISCRIMINATION UNDER THE SUPREME COURT'S NEW ANTICLASSIFICATION REGIME"
Georgetown Journal of Law and Modern Critical Race Perspectives
Vol. 3 Iss. 2 (2011)
Available at: http://works.bepress.com/chris_copeland/1/