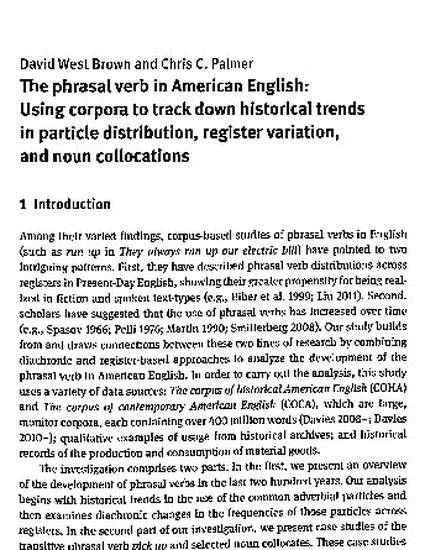 Contribution to Book
The Phrasal Verb in American English: Using Corpora to Track Down Historical Trends in Particle Distribution, Register Variation, and Noun Collocations
Studies in the History of the English Language VI: Evidence and Method in Histories of English (2015)
Abstract
Phrasal verbs, such as "run up" in "They always run up our electric bill," have long been of interest to researchers of English linguistics. Scholars have been particularly focused on the definition and categorization of these multi-word items, as well as their grammatical, pragmatic, and semantic functions. Additionally, phrasal verbs have been examined historically, and recently corpus methods have been used to begin investigating phrasal verb frequency and patterns of variation across registers. But few studies have combined diachronic and register-based approaches to analyze the development of the phrasal verb in American English. This study uses large, monitor corpora--The Corpus of Historical American English (CoHA) and The Corpus of Contemporary American English (CoCA)--to investigate diachronic trends in the development of selected phrasal verbs. Our investigation follows two lines of inquiry. In the first, we present an overview of the development of phrasal verbs in the last two hundred years. Our analysis begins with historical trends in the use of the most common adverbial particles, including their varied uses in different registers. In the second part of our investigation, we present a case study of the most frequent phrasal verb (pick up). This case study explores how the usage of a transitive phrasal verb is influenced by the histories of the nouns that function as its objects (how "phone" impacts the use of "pick up," for example). One set of data, therefore, provides a global view of developmental trends focusing on the adverbial particles, the other a close look at some of the grammatical, semantic and sociolinguistic forces that can influence the histories of specific phrasal verbs. From these data, we discover that particular registers--fiction, most particularly--have contributed to the bulk of growth in phrasal verbs in American English. But unlike many previous studies, we do not find unimpeded growth in phrasal verb usage: there seems to be a plateau in phrasal verb frequency after the 1940s. We emphasize that such trends are observable only by consulting large, continuous corpora, rather than by aggregating smaller, disparate studies of different historical corpora. Finally, we argue that changes in the frequency and semantics of phrasal verbs are due, in part, to changes in culture--especially fashion and technology--and the nouns associated with these cultural changes.
Keywords
Phrasal verbs,
collocation,
register,
genre,
corpus linguistics,
American English,
particles,
history of American English,
sociolinguistics
Editor
Michael Adams, Laurel J. Brinton, R.D. Fulk
Series
Topics in English Linguistics [TiEL]
Citation Information
David West Brown and Chris C. Palmer. "The Phrasal Verb in American English: Using Corpora to Track Down Historical Trends in Particle Distribution, Register Variation, and Noun Collocations"
Studies in the History of the English Language VI: Evidence and Method in Histories of English
Vol. Volume 85 (2015) p. 71 - 97
Available at: http://works.bepress.com/chris_c_palmer/2/