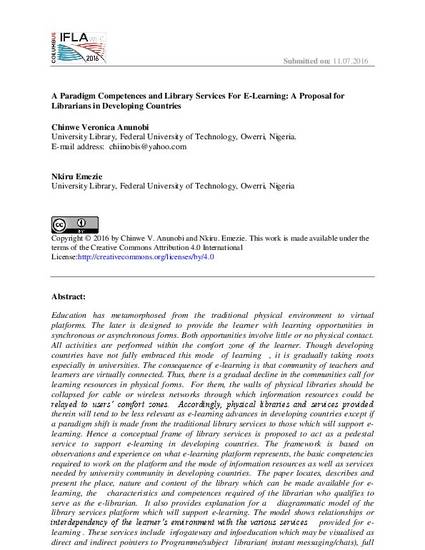 Presentation
A Paradigm Competences and Library Services For.pdf
IFLA (2016)
Abstract
Education has metamorphosed from the traditional physical environment to virtual platforms. The later is designed to provide the learner with learning opportunities in synchronous or asynchronous forms. Both opportunities involve little or no physical contact. All activities are performed within the comfort zone of the learner. Though developing countries have not fully embraced this mode  of learning  , it is gradually taking roots especially in universities. The consequence of e-learning is that community of teachers and learners are virtually connected. Thus, there is a gradual decline in the communities call for learning resources in physical forms.  For them, the walls of physical libraries should be collapsed for cable or wireless networks through which information resources could be relayed to users' comfort zones.  Accordingly, physical libraries and services provided therein will tend to be less relevant as e-learning advances in developing countries except if  a paradigm shift is made from the traditional library services to those which will support elearning. Hence a conceptual frame of library services is proposed to act as a pedestal service to support e-learning in developing countries. The framework is based on observations and experience on what e-learning platform represents, the basic competencies required to work on the platform and the mode of information resources as well as services needed by university community in developing countries.  The paper locates, describes and present the place, nature and content of the library which can be made available for elearning, the   characteristics and competences required of the librarian who qualifies to serve as the e-librarian.  It also provides explanation for a   diagrammatic model of the library services platform which will support e-learning. The model shows relationships or interdependency of the learner's environment with the various services   provided for elearning . These services include  infogateway and infoeducation which may be visualised as  direct and indirect pointers to Programme/subject  librarian( instant messaging/chats), full 
2 text or abstract of   print and electronic  resources (General), Course Guides ,  Reference( General and course specific, Lecture Notes, Indi- Resources ( Past question papers, research reports, seminar papers , lectures etc)  Assignments/Project support . Social media links etc.   The position will assist continuing education programme developers, Information technologist, library educators as well as professional librarians who are employees of academic institutions in developing countries. Continuing education programme developers will be privy to the needs of librarians to justifiably take their place in the world of elearning. With such they will design continuing professional development programme that will enhance librarians' competences. Information technologists will design e-learning platforms that will accommodate librarians and library services. Librarians employed in academic institution will be abreast of the changing library services expectations and work towards it while library educators will review their curriculum to adapt to the library needs of education stakeholders. 
Keywords
E-learning,
Library resources,
Library services,
E-Librarian,
competences,
Infogateway,
Infoeducation,
Indi-Resources,
Developing countries.
Publication Date
Summer August, 2016
Citation Information
Chinwe Veronica Anunobi. "A Paradigm Competences and Library Services For.pdf"
IFLA
(2016)
Available at: http://works.bepress.com/chinwe_anunobi/23/