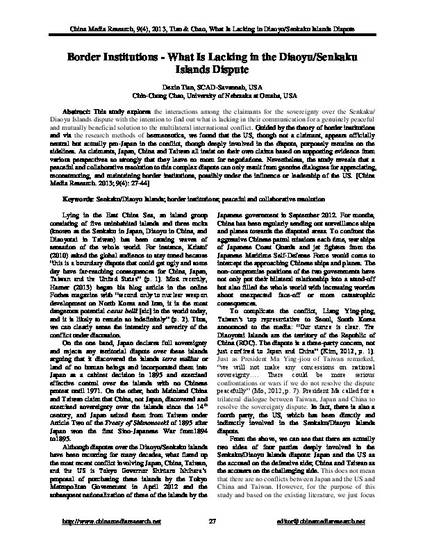 Article
Border Institutions - What Is Lacking in the Diaoyu/Senkaku Islands Dispute
China Media Research
Publication Date
10-1-2013
Abstract
This study explores the interactions among the claimants for the sovereignty over the Senkaku/ Diaoyu Islands dispute with the intention to find out what is lacking in their communication for a genuinely peaceful and mutually beneficial solution to the multilateral international conflict. Guided by the theory of border institutions and via the research methods of hermeneutics, we found that the US, though not a claimant, appears officially neutral but actually pro-Japan in the conflict, though deeply involved in the dispute, purposely remains on the sidelines. As claimants, Japan, China and Taiwan all insist on their own claims based on supporting evidence from various perspectives so strongly that they leave no room for negotiations. Nevertheless, the study reveals that a peaceful and collaborative resolution to this complex dispute can only result from genuine dialogues for appreciating, reconstructing, and maintaining border institutions, possibly under the influence or leadership of the US.
Citation Information
Dexin Tian and Chin-Chung Chao. "Border Institutions - What Is Lacking in the Diaoyu/Senkaku Islands Dispute"
China Media Research
Vol. 9 Iss. 4 (2013) p. 27 - 44
Available at: http://works.bepress.com/chinchung_chao/15/