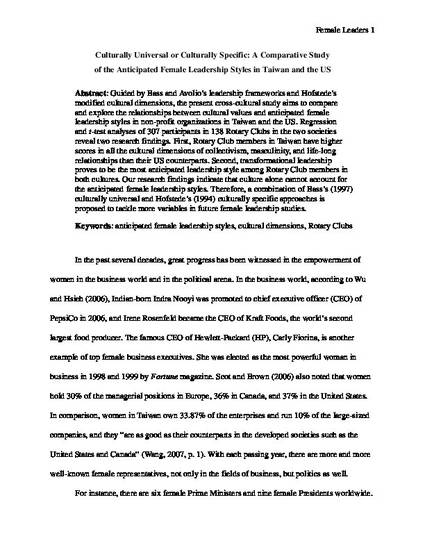 Article
Culturally Universal or Culturally Specific: A Comparative Study of the Anticipated Female Leadership Styles in Taiwan and the United States
Journal of Leadership & Organizational Studies
Publication Date
2-1-2011
Abstract
Guided by Bass and Avolio's leadership frameworks and Hofstede's modified cultural dimensions, the present cross-cultural study aims to compare and explore the relationships between cultural values and anticipated female leadership styles in non-profit organizations in Taiwan and the US. Regression and t-test analyses of 307 participants in 138 Rotary Clubs in the two societies reveal two research findings. First, Rotary Club members in Taiwan have higher scores in all the cultural dimensions of collectivism, masculinity, and life-long relationships than their US counterparts. Second, transformational leadership proves to be the most anticipated leadership style among Rotary Club members in both cultures. Our research findings indicate that culture alone cannot account for the anticipated female leadership styles. Therefore, a combination of Bass's (1997) culturally universal and Hofstede's (1994) culturally specific approaches is proposed to tackle more variables in future female leadership studies.
Citation Information
Chin-Chung Chao and Dexin Tian. "Culturally Universal or Culturally Specific: A Comparative Study of the Anticipated Female Leadership Styles in Taiwan and the United States"
Journal of Leadership & Organizational Studies
Vol. 18 Iss. 1 (2011) p. 64 - 79
Available at: http://works.bepress.com/chinchung_chao/14/