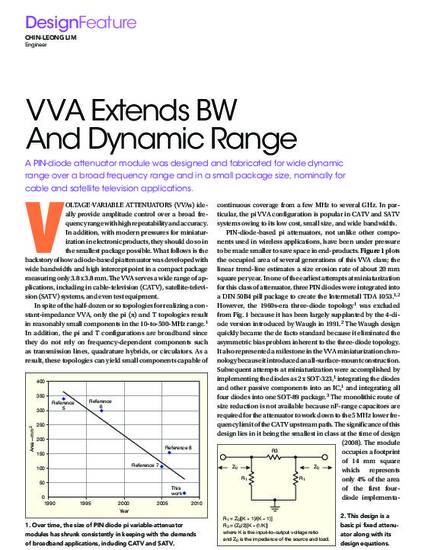 Article
VVA Extends BW And Dynamic Range
Microwave & RF (2011)
Abstract
Voltage-variable attenuators (VVAs) enable gain adjustment in a wide range of applications, including in cable-television (CATV), satellite-television (SATV) systems, and even test equipment and measurement systems. The PI VVA configuration using PIN diodes is ubiquitous in CATV and SATV systems owing to its low part count, small size, constant impedance, high linearity, and multi-decade bandwidth. Presently, this class of VVAs have been under severe miniaturization pressure in order to shrink end-product size. To create the industry's smallest CATV/SATV-suitable VVA, we integrated all necessary components into a multi-chip-on-board (MCOB) package measuring 3.8 x 3.8 x 1.0 mm (14 mm square footprint). This paper describes the prototype VVA's design, fabrication and experimental results. Using a 0-5 V control range, the attenuation can be varied over 45 dB in the 50-to-1950-MHz CATV frequency range, and over 30 dB from 5 MHz to 6 GHz. Its +52 dBm third-order intercept point (IP3) is at least 50 dB better than an equivalent MESFET-based VVA. In conclusion, MCOB assembly technique can result in a complete PIN diode VVA that is a fraction of the original size while maintaining the good performances.
Keywords
voltage variable attenuator,
VVA,
PIN diode,
constant impedance,
miniaturize,
compact
Publication Date
October, 2011
Citation Information
Chin-Leong Lim. "VVA Extends BW And Dynamic Range"
Microwave & RF
(2011)
Available at: http://works.bepress.com/chin-leong_lim/24/