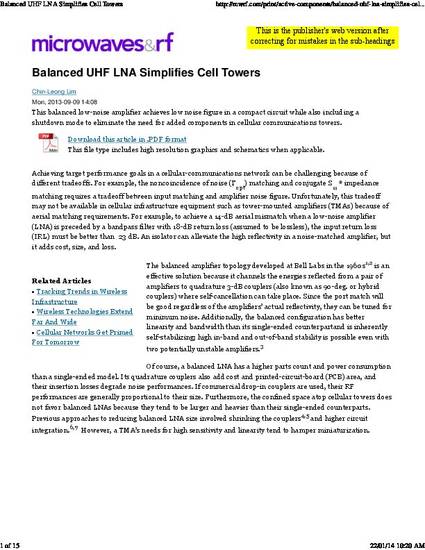 Article
Balanced UHF LNA Simplifies Cell Towers
Microwave & RF (2013)
Abstract
Cellular basestations' low noise amplifiers (LNA) must have input impedances that are closely matched to the antennas. Unfortunately, the amplifier devices cannot be conjugate matched without sacrificing their noise performances. Current solutions such as the isolator and the balanced LNA can satisfactorily solve the matching problem but at the expense of increased cost, weight and size. On the other hand, the confined space atop cellular towers makes the current solutions unattractive. To shrink the balanced LNA for cellular infrastructure service, we pair a highly integrated dual-amplifier MMIC with miniature multilayer couplers. This MMIC also achieves the distinction of being the industry's first dual-amplifier with an integrated shutdown function. This paper describes a compact 900 MHz balanced LNA and its results. Additionally, its space-saving and RF performances are also bench-marked with the prior arts. Despite the aggressive miniaturization, this work also demonstrates best-in-class noise and linearity performances. In conclusion, the size of balanced LNAs can be substantially reduced by a combination of MMIC integration and miniature couplers; this can facilitate the adoption of the balanced LNA in cellular infrastructures. (This is a condensed version of an article which first appeared in Microwave Engg. Eur., Mar. 2013. Several graphs were deleted in this version by the editor).
Keywords
balanced low noise amplifier,
balanced LNA,
balanced amplifier
Publication Date
September, 2013
Citation Information
Chin-Leong Lim. "Balanced UHF LNA Simplifies Cell Towers"
Microwave & RF
(2013)
Available at: http://works.bepress.com/chin-leong_lim/10/