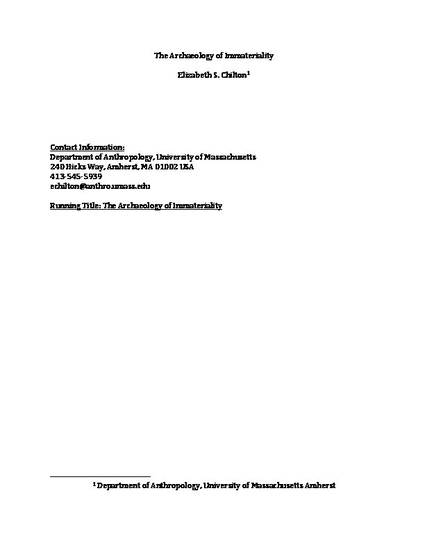 Article
The Archaeology of Immateriality
Archaeologies
Abstract
Despite changes in archaeological theory and practice over the past 40 years, most archaeologists are still not very good at acknowledging that "significance" is context-dependent and non-material. In this paper I present two cases studies from New England where archaeologists collaborated with Native peoples on sites that had significant preservation concerns. I evaluate to what extent these projects were successful in their goal of decolonizing archaeology. I call for a definition of materiality that acknowledges that tangible objects and their intangible contexts and meanings are inextricable, and that values are continuously created and recreated in the present by a variety of memory communities.
DOI
10.1007/s11759-012-9215-y
Citation Information
Elizabeth S. Chilton. "The Archaeology of Immateriality"
Archaeologies
Vol. 8 Iss. 3 (2012)
Available at: http://works.bepress.com/chilton_elizabeth/41/