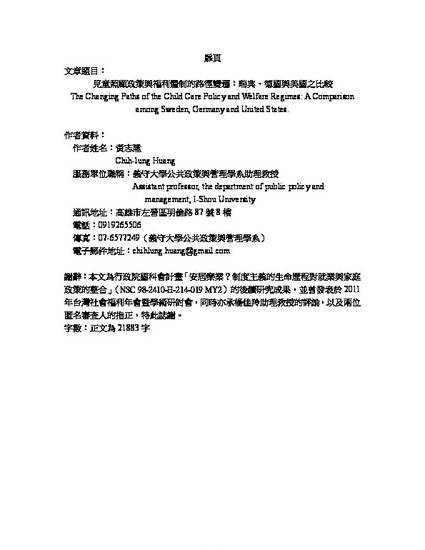 Article
The Changing Paths of the Child Care Policy and Welfare Regimes: A Comparison among Sweden, Germany and United States
Soochow Journal of Social Work (2013)
Abstract
With the economic globalization, the transformation of post industrialized, and the change of employment pattern, the women's labor participation is still rising. This phenomenon not only affected the breadwinner model which were shaped by the welfare regime, but also caused the consequence of baby bust and ageing population. This article will explore the changing paths of welfare regimes which includes the social democracy-Sweden, the conservatism-Germany, and the liberal- the U.S.A. We try to clarify the effect of reform ideas for the changing paths of breadwinner model behind the welfare regimes, and the policy implications for the work and life balance.
Keywords
welfare regime,
breadwinner model,
the idea of gender equality,
child care policy,
life course policy
Publication Date
Summer June, 2013
Citation Information
Chih-lung Huang. "The Changing Paths of the Child Care Policy and Welfare Regimes: A Comparison among Sweden, Germany and United States"
Soochow Journal of Social Work
Vol. 25 (2013)
Available at: http://works.bepress.com/chihlung_huang/7/