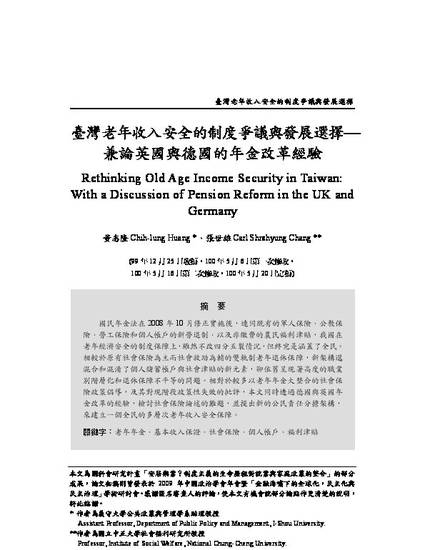 Article
Rethinking Old Age Income Security in Taiwan: With a Discussion of Pension Reform in the UK and Germany
Socieconomic Law and Institution Review (2011)
Abstract
After the amended provisions of the National Pension Act came into effect in October 2008, creating a new retirement system that joined up the existing military personnel, public school teacher, and labor pension schemes as well as individual accounts and farmers' non-contributory welfare subsidies, Taiwan's system of safeguards for economic security in old age was still fragmented but finally covered the whole of the population. Compared with the previous two-track system, with social insurance as the main form and social relief as the subsidiary form of retirement security, the new framework blends and confuses individual savings accounts and new elements of social subsidy, but still displays the old problems of being highly tiered by occupation and providing unequal retirement security. In consonance with the majority advocacy of a social security policy of universally integrating old-age pensions, and its criticism of current-stage policy failings, and drawing reference from pension system reforms in the UK and Germany, this paper reviews the discourse on social insurance, and proposes a new sharing-of-burden framework for the establishment of multi-tier old age income security for all of the people.
Keywords
Old age pension,
basic income guarantee,
social insurance,
individual savings account,
welfare subsidy
Publication Date
July, 2011
Citation Information
Chih-lung Huang and Shrsyung Chang. "Rethinking Old Age Income Security in Taiwan: With a Discussion of Pension Reform in the UK and Germany"
Socieconomic Law and Institution Review
Vol. 48 (2011)
Available at: http://works.bepress.com/chihlung_huang/6/