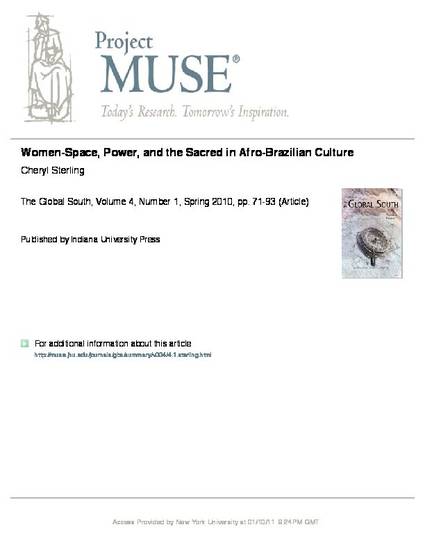 Article
Women-Space, Power and the Sacred in Afro-Brazilian Culture
Global South (2010)
Abstract
This article places Afro-Brazilian women in the midst of the discourse of globalization, in light of its impact on marginalizing women of color, economically, politically, and culturally. It extends the concept of globalizing discourses to the history of enslavement and the racialist policies in Brazilian society, as seen in its policy of embranquecimento and the myth of Brazil as a racial democracy. The article then analyzes the historic and present day role of Afro-Brazilian women in the religious tradition of Candomblé, focusing on one public festival in particular, the festa for the Yoruba-based orixá, Obaluaye, in Salvador da Bahia. It posits that Candomblé offers an alternate model of empowerment for Afro-Brazilian women that inverts their status as the most negated in the hierarchies of power.
Publication Date
Spring 2010
Citation Information
Cheryl Sterling. "Women-Space, Power and the Sacred in Afro-Brazilian Culture"
Global South
Vol. 4 Iss. 1 (2010)
Available at: http://works.bepress.com/cheryl_sterling/1/