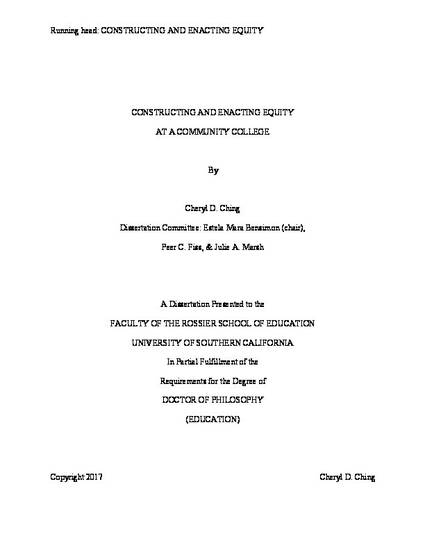 Dissertation
Constructing and enacting equity at a community college
(2017)
Abstract
Despite its popularity, ubiquity, and wide use in the field of higher education, "equity" is a word rarely defined with clarity and precision, its meaning assumed, left vague, or open to interpretation. Across policy, research, and practice circles, what equity means, who and what it is for, and what it necessitates from those who profess its importance varies; not only can equity be framed using different rationales and be based on different ideological underpinnings, it can focus on different issues and populations and entail different forms of action. In this way, there is no fixed notion of what equity is in higher education, no "right" definition. Rather, there are meanings that researchers, policymakers, and practitioners construct and enact for themselves and for their audiences. Understanding how the meaning of equity is made and put into practice matters because equity beckons moral questions over the ideals of higher education as a public good and as an institution that counts the related concerns of equality and egalitarianism among its foundational principles. Moreover, it matters because colleges and universities face increasing pressure from stakeholders within and outside higher education to address issues associated with equity, specifically the improvement and elimination of disparities in student access, completion, and success.
This dissertation tackles the question of how equity is constructed and enacted locally, that is, in a particular setting where negotiations and contests of its meaning take place. Unlike most prior higher education research that begins with (often unstated) criteria for equity and seeks to answer whether and/or how these criteria are met, this study is not anchored by a particular definition of equity, fidelity to which must be evaluated. Instead, it treats equity as an organizational phenomenon and explores the world that emerges when equity is made a priority. Through a case study of a community college nested in a policy environment where equity has recently emerged as an explicit focus, this dissertation examines how practitioners come to terms with what equity is; what equity becomes as it interacts with the organizational rules, norms, identities, and bureaucratic and power structures that govern practitioner thinking and work; and what happens to the college as practitioners pursue efforts done in equity's name. Guided by an organizational sensemaking framework, this study features a theory-informed case narrative based on interviews, observations and documents collected over a one-year period. Specifically, the case narrative describes the local environment in which the construction and enactment of equity is unfolding; how equity was triggered as something to make sense of; how individual practitioners conceptualize equity; how equity's meaning emerged through a process of labeling ideas and actions as "equity"; and how the emerging meaning about equity is contested.
Drawing on the case narrative, the dissertation presents findings and lessons learned in the form of six propositions about equity's construction and enactment in a community college setting: (1) Policy can be a powerful trigger, but internal instigators are needed for ongoing sensemaking about equity; (2) Labeling what equity is (and is not) gives equity its meaning; (3) Equity constructed in the field has a local character; (4)
Who
should be the target of equity efforts and
what
the focus of equity should be are as messy in practice as in research; (5) Enacting equity in an existing system means you have to deal with the existing system; (6) Constructing and enacting equity is
not
an apolitical process.
Keywords
equity,
sensemaking,
community college
Publication Date
Spring May, 2017
Field of study
Higher Education
Department
Rossier School of Education
Advisors
Estela Mara Bensimon (Chair), Peer C. Fiss, Julie A. Marsh
Citation Information
Cheryl D. Ching. "Constructing and enacting equity at a community college" (2017)
Available at: http://works.bepress.com/cheryl-ching/5/