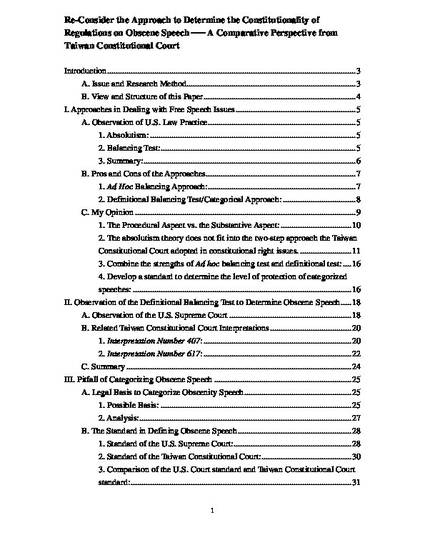 Unpublished Paper
RE-CONSIDER THE APPROACH TO DETERMINE THE CONSTITUTIONALITY OF REGULATIONS ON OBSCENE SPEECH ── A COMPARATIVE PERSPECTIVE FROM TAIWAN CONSTITUTIONAL COURT
ExpressO (2011)
Abstract
In determining the constitutionality of regulations of obscene speech, the Taiwan Constitutional Court tends to follow the U.S. court standard-"definitional balancing approach", under which all types of speech are categorized by definition in deciding which level of free speech protection shall be offered. Critics challenged that this approach over-simplifies the value of the speech in each single fact and fails to consider various factors on a case-by-case basis and is subject to a fatal risk that it might wrongfully categorize the speech in a particular case. This paper attempts to address the various approaches of obscene speech law and looks at a proper method to deal with the dispute about obscene speech. In this essay, I propose that "ad hoc balancing approach" shall be more appropriate than "definitional balancing approach" in dealing with the issue. The reasons are as follows:
1. First, the social good does not necessarily outweigh the value of obscene materials and render obscene materials less protected and not protected under constitutional right of free speech. There are accusations that certain types of speech are likely to cause negative influence to children/teenagers' development, disturbance to persons that want to avoid unwanted speeches and to sex discriminations etc. However, before the causation linkage between the obscene speech and the alleged damages can be adequately proved, it is unjustified to generally lower the degree of protection of freedom of speech.
2. Among all the approaches, the definitional balancing approach combined with a two-tier test appears to be the most appropriate approach in dealing with free speech with a condition that that definition or standard should be clear enough to categorize obscene materials. However, if no such clear standard can be established, it would be more appropriate to choose the ad hoc balancing test instead of classifying materials into certain pre-determined categories to avoid bias against certain types of materials.
In summary, in this essay I conclude that it is important to abolish the categorical approach to obscene materials and determine the relevant disputes on a case-by-case basis to balance the interests at hand.
Keywords
obscenity,
pornography,
ad hoc approach,
categorical approach
Publication Date
July 20, 2011
Citation Information
Chen-Hung Chang. "RE-CONSIDER THE APPROACH TO DETERMINE THE CONSTITUTIONALITY OF REGULATIONS ON OBSCENE SPEECH ── A COMPARATIVE PERSPECTIVE FROM TAIWAN CONSTITUTIONAL COURT"
ExpressO
(2011)
Available at: http://works.bepress.com/chen-hung_chang/1/