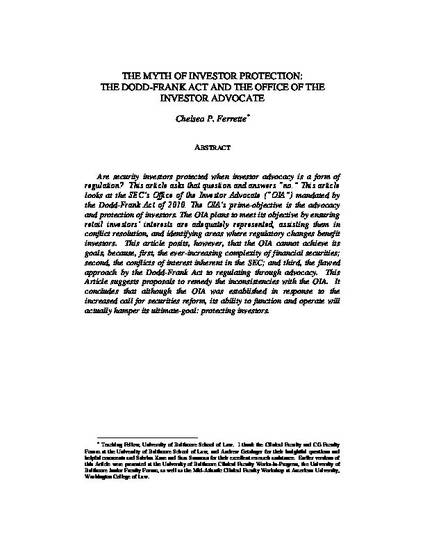 Unpublished Paper
THE MYTH OF INVESTOR PROTECTION: THE DODD-FRANK ACT AND THE OFFICE OF THE INVESTOR ADVOCATE
ExpressO (2011)
Abstract
Are security investors protected when investor advocacy is a form of regulation? This article asks that question and answers "no." This article looks at the SEC's Office of the Investor Advocate ("OIA") mandated by the Dodd-Frank Act of 2010. The OIA's prime-objective is the advocacy and protection of investors. The OIA plans to meet its objective by ensuring retail investors' interests are adequately represented, assisting them in conflict resolution, and identifying areas where regulatory changes benefit investors. This article posits, however, that the OIA cannot achieve its goals, because, first, the ever-increasing complexity of financial securities; second, the conflicts of interest inherent in the SEC; and third, the flawed approach by the Dodd-Frank Act to regulating through advocacy. This Article suggests proposals to remedy the inconsistencies with the OIA. The Article concludes that although the OIA was established in response to the increased call for securities reform, its ability to function and operate will actually hamper its ultimate-goal: protecting investors.
Keywords
Dodd-Frank Act,
investor protection,
investor risk,
regulatory reform,
financial securities
Publication Date
September 16, 2011
Citation Information
Chelsea P. Ferrette. "THE MYTH OF INVESTOR PROTECTION: THE DODD-FRANK ACT AND THE OFFICE OF THE INVESTOR ADVOCATE"
ExpressO
(2011)
Available at: http://works.bepress.com/chelsea_ferrette/1/