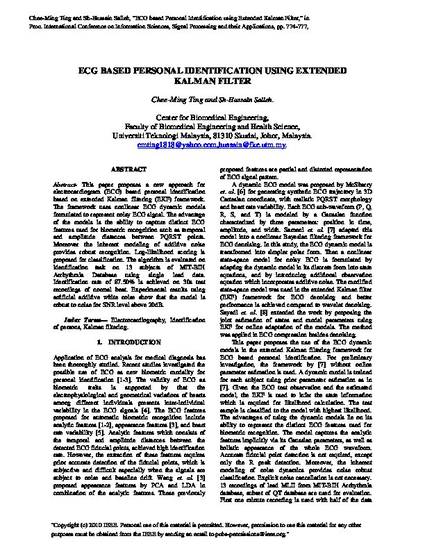 Article
ECG based personal identification using extended kalman filter
2010 10th International Conference on Information Sciences Signal Processing and their Applications (ISSPA) (2010)
Abstract
This paper proposes a new approach for electrocardiogram (ECG) based personal identification based on extended Kalman filtering (EKF) framework. The framework uses nonlinear ECG dynamic models formulated to represent noisy ECG signal. The advantage of the models is the ability to capture distinct ECG features used for biometric recognition such as temporal and amplitude distances between PQRST points. Moreover the inherent modeling of additive noise provides robust recognition. Log-likelihood scoring is proposed for classification. The algorithm is evaluated on identification task on 13 subjects of MIT-BIH Arrhythmia Database using single lead data. Identification rate of 87.50% is achieved on 30s test recordings of normal beat. Experimental results using artificial additive white noise show that the model is robust to noise for SNR level above 20dB.
Keywords
Electrocardiography,
Identification of persons,
Kalman filtering
Publication Date
May 10, 2010
Citation Information
Chee-Ming Ting and Sh-Hussain Salleh. "ECG based personal identification using extended kalman filter"
2010 10th International Conference on Information Sciences Signal Processing and their Applications (ISSPA)
(2010)
Available at: http://works.bepress.com/chee-ming_ting/8/