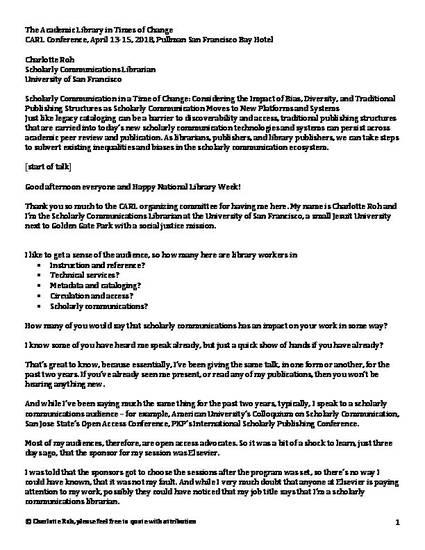 Presentation
Scholarly Communication in a Time of Change: Considering the Impact of Bias, Diversity, and Traditional Publishing Structures as Scholarly Communication Moves to New Platforms and Systems (Talk Transcript)
California Academic Research Libraries (2018)
Abstract
Just like legacy cataloging can be a barrier to discoverability and access, traditional publishing structures that are carried into today's new scholarly communication technologies and systems can persist across academic peer review and publication. As librarians, publishers, and library publishers, we can take steps to subvert existing inequalities and biases in the scholarly communication ecosystem.
Publication Date
Spring April 14, 2018
Location
Pullman San Francisco Bay Hotel
Citation Information
Charlotte Roh. "Scholarly Communication in a Time of Change: Considering the Impact of Bias, Diversity, and Traditional Publishing Structures as Scholarly Communication Moves to New Platforms and Systems (Talk Transcript)"
California Academic Research Libraries
(2018)
Available at: http://works.bepress.com/charlotteroh/43/