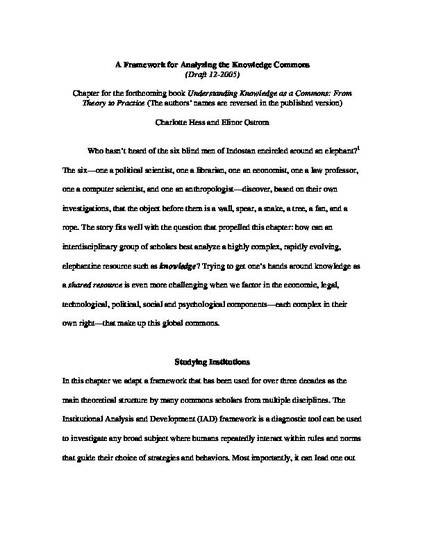 Contribution to Book
A Framework for Analyzing the Knowledge Commons : a chapter from Understanding Knowledge as a Commons: from Theory to Practice.
Libraries' and Librarians' Publications
Document Type
Book Chapter
Keywords
communication,
information commons,
institutional analysis--IAD framework,
intellectual property rights,
universities,
knowledge,
sustainability,
copyright,
Workshop
Description/Abstract
Who hasn't heard of the six blind men of Indostan encircled around an elephant?1 The six—one a political scientist, one a librarian, one an economist, one a law professor, one a computer scientist, and one an anthropologist—discover, based on their own investigations, that the object before them is a wall, spear, a snake, a tree, a fan, and a rope. The story fits well with the question that propelled this chapter: how can an interdisciplinary group of scholars best analyze a highly complex, rapidly evolving, elephantine resource such as knowledge? Trying to get one's hands around knowledge as a shared resource is even more challenging when we factor in the economic, legal, technological, political, social and psychological components—each complex in their own right—that make up this global commons.
Source
Indiana University Commons metadata
Citation Information
Charlotte Hess and Elinor Ostrom. "A Framework for Analyzing the Knowledge Commons : a chapter from Understanding Knowledge as a Commons: from Theory to Practice." (2005)
Available at: http://works.bepress.com/charlotte_hess/7/