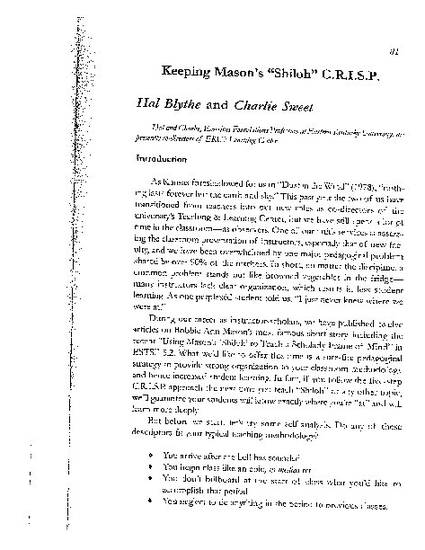 Article
Keeping Mason's 'Shiloh' C.R.I.S.P.
Eureka Studies in Teaching Short Fiction (2008)
Abstract
As Kansas foreshadowed for us in "Dust in the Wind" (1978), "nothing lasts forever but the earth and sky." This past year the two of us have transitioned from teachers into our new roles as co-directors of the university's Teaching & Learning Center, but we have still spent a lot of time in the classroom-as observers. One of our unit's services is assessing the classroom presentation of instructors, especially that of new faculty, and we have been overwhelmed by one major pedagogical problem shared by over 90% of the teachers. In short, no matter the discipline, a common problem stands out like browned vegetables in the fridge--many instructors lack clear organization, which results in less student learning. As one perplexed student told us, "I just never knew where we were at."
Keywords
teaching mason's shiloh,
teaching approach shiloh
Citation Information
Charlie Sweet and Hal Blythe. "Keeping Mason's 'Shiloh' C.R.I.S.P."
Eureka Studies in Teaching Short Fiction
Vol. 9 Iss. 1 (2008)
Available at: http://works.bepress.com/charlie_sweet/49/