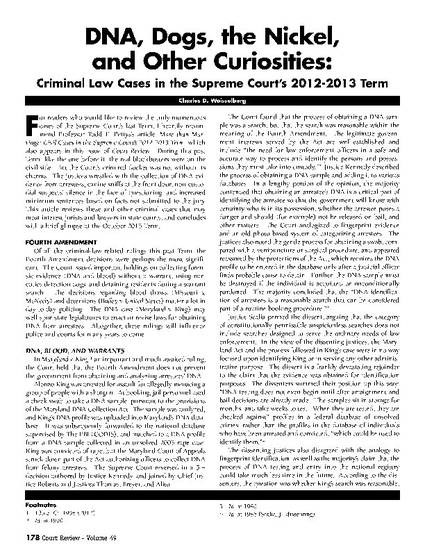 Article
DNA, Dogs, the Nickel, and Other Curiosities: Criminal Law Cases in the Supreme Court's 2012-2013 Term
Court Review
Publication Date
1-1-2013
Abstract
For readers who would like to review the truly momentous cases of the Supreme Court's last Term, I heartily recommend Professor Todd E. Pettys's article, More than Marriage: Civil Cases in the Supreme Courts 2012-2013 Term, which also appears in this issue of Court Review. During this past Term, like the one before it, the real blockbusters were on the civil side. But the Court's criminal docket was not without its charms. The justices wrestled with the collection of DNA evidence from arrestees, canine sniffs at the front door, non-custodial suspects' silence in the face of questioning, and increased minimum sentences based on facts not submitted to the jury This article reviews these and other criminal cases that may most interest jurists and lawyers in state courts, and concludes with a brief glimpse at the October 2013 Term.
Citation Information
Charles D. Weisselberg. "DNA, Dogs, the Nickel, and Other Curiosities: Criminal Law Cases in the Supreme Court's 2012-2013 Term"
Court Review
Vol. 49 (2013) p. 178
Available at: http://works.bepress.com/charles_weisselberg/32/