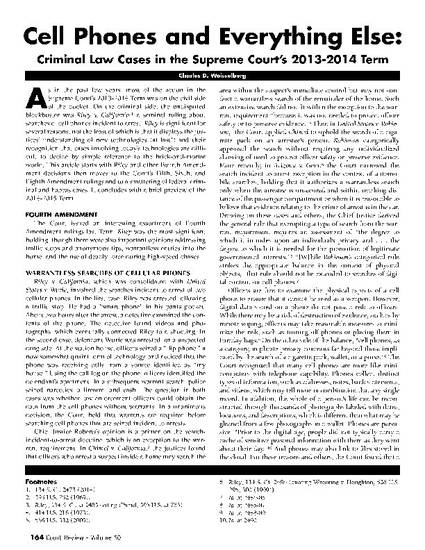 Article
Cell Phones and Everything Else: Criminal Law Cases in the Supreme Court's 2013-2014 Term
Court Review
Publication Date
1-1-2014
Abstract
As in the past few years, most of the action in the Supreme Court's 2013-2014 Term was on the civil side of the docket. On the criminal side, the undisputed blockbuster was Riley v. California, a seminal ruling about searches of cell phones incident to arrest. Riley is significant for several reasons, not the least of which is that it displays the justices' understanding of new technologies (at last!) and their recognition that cases involving today's technologies are difficult to decide by simple reference to the brick-and-mortar world. This article starts with Riley and other Fourth Amendment decisions then moves to the Court's Fifth, Sixth, and Eighth Amendment rulings and to a smattering of federal criminal and habeas cases. It concludes with a brief preview of the 2014-2015 Term.
Citation Information
Charles D. Weisselberg. "Cell Phones and Everything Else: Criminal Law Cases in the Supreme Court's 2013-2014 Term"
Court Review
Vol. 50 (2014) p. 164
Available at: http://works.bepress.com/charles_weisselberg/29/