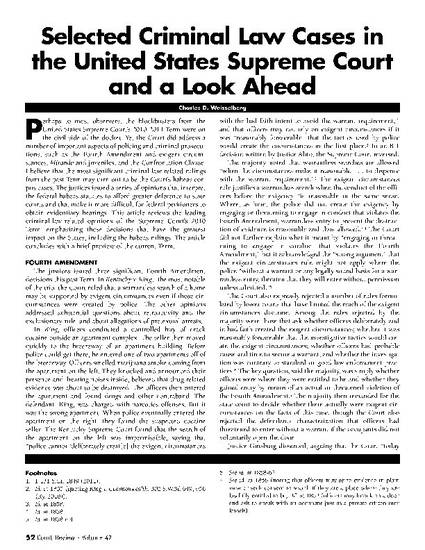 Article
Selected Criminal Law Cases in the United States Supreme Court and a Look Ahead
Court Review
Publication Date
1-1-2011
Abstract
Perhaps to most observers, the blockbusters from the United States Supreme Court's 2010-2011 Term were on the civil side of the docket. Yet the Court did address a number of important aspects of policing and criminal prosecutions, such as the Fourth Amendment and exigent circumstances, Miranda and juveniles, and the Confrontation Clause. I believe that the most significant criminal-law-related rulings from the past Term may turn out to be the Court's habeas corpus cases. The justices issued a series of opinions that interpret the federal habeas statutes to afford greater deference to state courts and that make it more difficult for federal petitioners to obtain evidentiary hearings. This article reviews the leading criminal-law-related opinions of the Supreme Court's 2010 Term, emphasizing those decisions that have the greatest impact on the States, including the habeas rulings. The article concludes with a brief preview of the current Term.
Citation Information
Charles D. Weisselberg. "Selected Criminal Law Cases in the United States Supreme Court and a Look Ahead"
Court Review
Vol. 47 (2011) p. 52
Available at: http://works.bepress.com/charles_weisselberg/25/