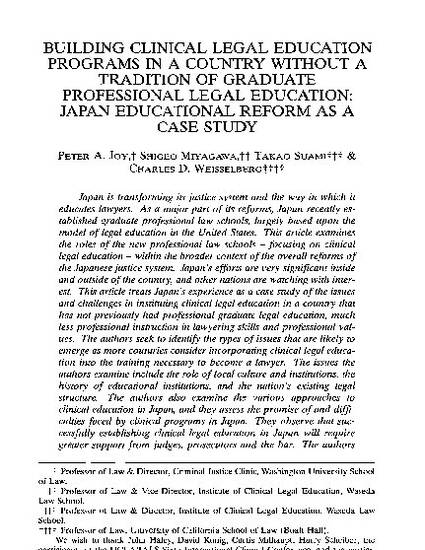 Article
Building Clinical Legal Education Programs in a Country Without a Tradition of Graduate Professional Legal Education: Japan Educational Reform as a Case Study
Clinical Law Review
Publication Date
1-1-2006
Abstract
Japan is transforming its justice system and the way in which it educates lawyers. As a major part of its reforms, Japan recently established graduate professional law schools, largely based upon the model of legal education in the United States. This article examines the roles of the new professional law schools — focusing on clinical legal education — within the broader context of the overall reforms of the Japanese justice system. Japan's efforts are very significant inside and outside of the country, and other nations are watching with interest. This article treats Japan's experience as a case study of the issues and challenges in instituting clinical legal education in a country that has not previously had professional graduate legal education, much less professional instruction in lawyering skills and professional values. The authors seek to identify the types of issues that are likely to emerge as more countries consider incorporating clinical legal education into the training necessary to become a lawyer. The issues the authors examine include the role of local culture and institutions, the history of educational institutions, and the nation's existing legal structure. The authors also examine the various approaches to clinical education in Japan, and they assess the promise of and difficulties faced by clinical programs in Japan. They observe that successfully establishing clinical legal education in Japan will require greater support from judges, prosecutors and the bar. The authors conclude that clinical legal education is integral to meeting the goals of the law reform movement in Japan, but that the future of clinical legal education in Japan is far from certain. Reprinted by permission of the publisher.
Citation Information
Peter A. Joy, Shigeo Miyagawa, Takao Suami and Charles D. Weisselberg. "Building Clinical Legal Education Programs in a Country Without a Tradition of Graduate Professional Legal Education: Japan Educational Reform as a Case Study"
Clinical Law Review
Vol. 13 (2006) p. 417
Available at: http://works.bepress.com/charles_weisselberg/19/