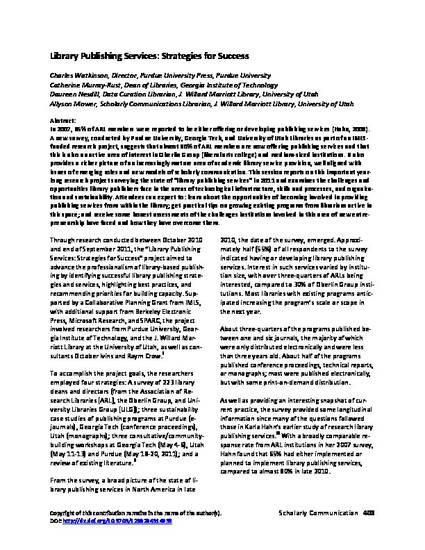 Article
Library Publishing Services: Strategies for Success
Charleston Library Conference
Abstract
In 2007, 65% of ARL members were reported to be either offering or developing publishing services (Hahn, 2008). A new survey, conducted by Purdue University, Georgia Tech, and University of Utah Libraries as part of an IMLS-funded research project, suggests that almost 80% of ARL members are now offering publishing services and that this is also an active area of interest in Oberlin Group (liberal arts college) and medium-sized institutions. It also provides a richer picture of an increasingly mature area of academic library service provision, well aligned with issues of emerging roles and new models of scholarly communication. This session reports on this important year-long research project surveying the state of "library publishing services" in 2011 and examines the challenges and opportunities library publishers face in the areas of technological infrastructure, skills and processes, and organization and sustainability. Attendees can expect to: learn about the opportunities of becoming involved in providing publishing services from within the library; get practical tips on growing existing programs from librarians active in this space; and receive some honest assessments of the challenges institutions involved in this area of new entrepreneurship have faced and how they have overcome them.
DOI
10.5703/1288284314935
Citation Information
Charles Watkinson, Catherine Murray-Rust, Daureen Nesdill and Allyson Mower. "Library Publishing Services: Strategies for Success"
Available at: http://works.bepress.com/charles_watkinson/2/