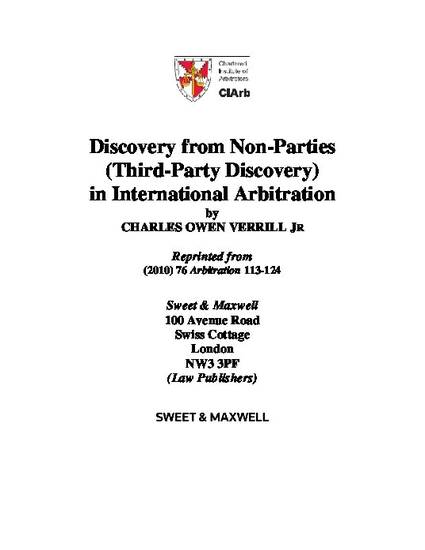 Article
Discovery From Non-Parties (Third-Party Discovery) in International Arbitration
Arbitration
Abstract
International arbitration rules and many arbitration laws usually provide procedures that permit tribunals to order parties to disclose documents and other materials to the other parties.1 More complex are the rules that determine opportunities to obtain discovery from persons that are not party to the arbitration (third-party discovery). This article will review third-party discovery under the Federal Arbitration Act (FAA) and the provisions of the US Code s.1782 that authorise US courts to act in aid of actions before foreign tribunals. Section 1782 has unique interest at this time because it figured prominently in the EU antitrust investigation of Intel that was initiated on request from Advanced Micro Devices (AMD). Early in that investigation, AMD filed a s.1782 request in the US District Court to obtain evidence from US sources for submission to the DG-Competition of the European Commission (EC). This request ultimately led to the Supreme Court's decision in Intel Corp v Advanced Micro Devices Inc2 which appeared to significantly expand the scope of s.1782. Ironically, after AMD won on key legal issues in the Supreme Court, the District Court on remand exercised its discretion and denied the request for judicial assistance. This paper first describes the FAA non-party discovery rules and the split among the federal appellate courts concerning the authority of arbitrators to order prehearing discovery from non-parties. Next, it provides an analysis of the meaning of the terms "interested party" and "tribunal"—terms that were controversially interpreted by the Supreme Court in Intel and are essential to the application of s.1782. Finally, it discusses the "discretionary" factors used by the federal courts in deciding whether to grant a s.1782 request even when the statutory criteria are met. The opportunity to exercise this discretion seems to rebut the argument that the Supreme Court's interpretation of s.1782 gives participants before foreign tribunals more discovery rights in the United States than are available to the parties in arbitrations covered by the FAA.
Citation Information
Charles O. Verrill. "Discovery From Non-Parties (Third-Party Discovery) in International Arbitration"
Arbitration
Vol. 76 (2010) p. 113 - 124
Available at: http://works.bepress.com/charles_verrill/1/