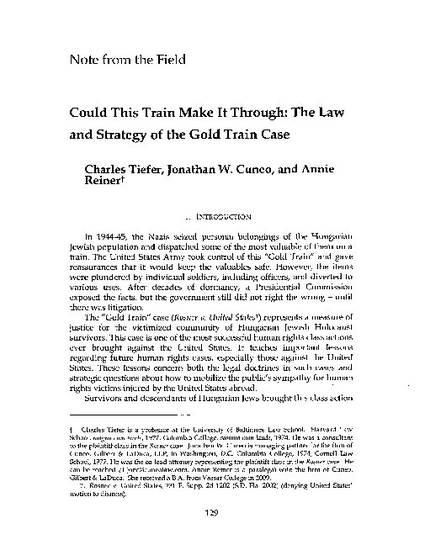 Article
Could This Train Make It Through: The Law and Strategy of the Gold Train Case
Yale Human Rights and Development Law Journal
Abstract
In 1944-45, the Nazis seized personal belongings of the Hungarian
Jewish population and dispatched some of the most valuable of them on a
train. The United States Army took control of this "Gold Train" and gave
reassurances that it would keep the valuables safe. However, the items
were plundered by individual soldiers, including officers, and diverted to
various uses. After decades of dormancy, a Presidential Commission
exposed the facts, but the government still did not right the wrong - until
there was litigation.
The "Gold Train" case (Rosner v. United States) represents a measure of
justice for the victimized community of Hungarian Jewish Holocaust
survivors. This case is one of the most successful human rights class actions
ever brought against the United States. It teaches important lessons
regarding future human rights cases, especially those against the United
States. These lessons concern both the legal doctrines in such cases and
strategic questions about how to mobilize the public's sympathy for human
rights victims injured by the United States abroad.
Citation Information
Charles Tiefer, Jonathan W Cuneo and Annie Reiner. "Could This Train Make It Through: The Law and Strategy of the Gold Train Case"
Available at: http://works.bepress.com/charles_tiefer/32/