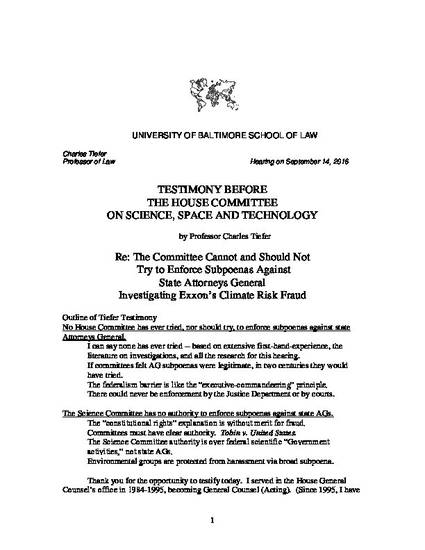 Video
Testimony Before the House Committee on Science, Space and Technology
All Faculty Scholarship
Document Type
Congressional and Other Testimony
Publication Date
9-14-2016
Abstract
Thank you for the opportunity to testify today. I served in the House General Counsel's office in 1984-1995, becoming General Counsel (Acting). (Since 1995, I have been Professor at the University of Baltimore School of Law,)
So, I have lengthy fulltime experience, including extensive work on Congressional subpoenas. My work takes in whether the House, or this Committee, may justifiably try to enforce subpoenas against state Attorneys General (the answer being: no). I have had more years of experience than almost anyone else in House history focused on this area. While the other professors on this panel have done various things, none has been the House General Counsel. I stood behind the dais of committees many, many times, which few did, advising Chairmen on the legitimate lawful use of Congressional oversight authority.
Citation Information
Testimony Before the H. Comm. on Science, Space & Tech., 114th Cong. (2016)(testimony of Charles Tiefer, Professor, University of Baltimore School of Law).