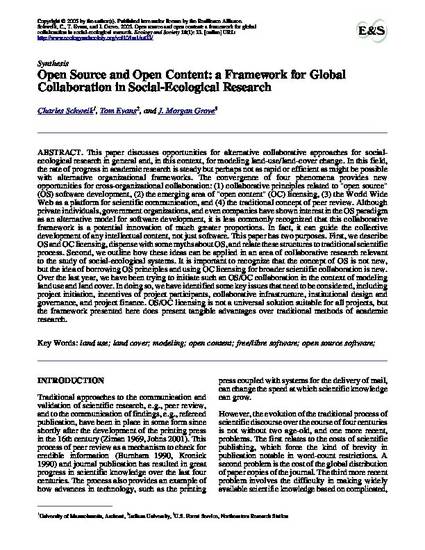 Article
Open Source and Open Content: a Framework for Global Collaboration in Social-Ecological Research
Ecology and Society (2005)
Abstract
Traditional approaches to the communication and validation of scientific research, e.g., peer review, and to the communication of findings, e.g., refereed publication, have been in place in some form since shortly after the development of the printing press in the 16th century (Ziman 1969, Johns 2001). This process of peer review as a mechanism to check for credible information (Burnham 1990, Kronick 1990) and journal publication has resulted in great progress in scientific knowledge over the last four centuries. The process also provides an example of how advances in technology, such as the printing press coupled with systems for the delivery of mail, can change the speed at which scientific knowledge can grow.
However, the evolution of the traditional process of scientific discourse over the course of four centuries is not without two age-old, and one more recent, problems. The first relates to the costs of scientific publishing, which force the kind of brevity in publication notable in word-count restrictions. A second problem is the cost of the global distribution of paper copies of the journal. The third more recent problem involves the difficulty in making widely available scientific knowledge based on complicated, technical expertise often grounded in computing. For example, in the context of modeling land-use change, a topic discussed later in more depth, significant and complex models exist, but they are rarely further developed or applied by anyone outside the original founding group because of the transaction costs required to learn and apply them elsewhere. Moreover, Aber (1997:232) notes that, in the field of ecology, there is a general distrust of such models because it is assumed that these projects and papers are not being held to the same standards of full disclosure and peer review as in other areas of scientific research. We would argue that Aber's conclusion is, at least in part, driven by the first problem of brevity in publishing.
Keywords
open source,
open content,
collaboration,
science,
landuse modeling
Citation Information
Charles M Schweik, Tom Evans and J Morgan Grove. "Open Source and Open Content: a Framework for Global Collaboration in Social-Ecological Research"
Ecology and Society
Vol. 10 Iss. 1 (2005)
Available at: http://works.bepress.com/charles_schweik/6/