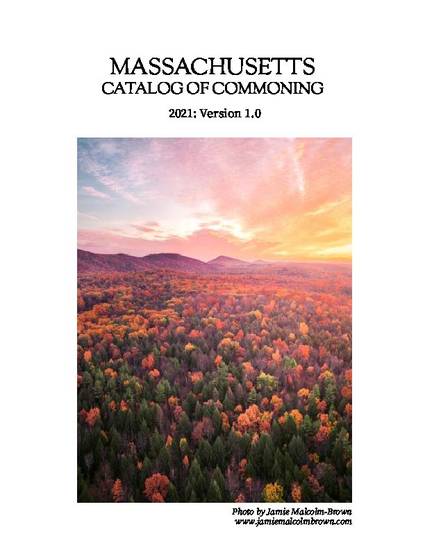 Other
Massachusetts Catalog of Commoning Version 1
(2021)
Abstract
Commons have been defined as "living social systems through which people address their shared problems in self-organized ways" [1]. This catalog -- a first of its kind -- offers a first glimpse into the wealth of commons-type organizations operating in Massachusetts. The cases included in this first volume were researched and written by (mostly) graduate students affiliated with the School of Public Policy or the School of Earth and Sustainability at the University of Massachusetts Amherst. Our goal is that each year new cohorts of students will either add new cases to this volume, or revisit the cases to update their stories where needed. Our longer term hope is to use this volume to inspire other regions in the United States or elsewhere to create their own regional commoning catalog.
[1] Bollier, David and Helfrich, Silke. 2019. Free, Fair and Alive: The Insurgent Power of the Commons. New Society Publishers.
Keywords
Commons,
Self-governance,
Case studies,
sustainability
Publication Date
Spring May 15, 2021
Citation Information
Schweik, C. and Gunther-Segal, M. (eds). 2021. The Massachusetts Catalog of Commoning. Version 1.0. School of Public Policy and School of Earth and Sustainability, University of Massachusetts Amherst
Creative Commons license
This work is licensed under a Creative Commons CC_BY-ND International License.