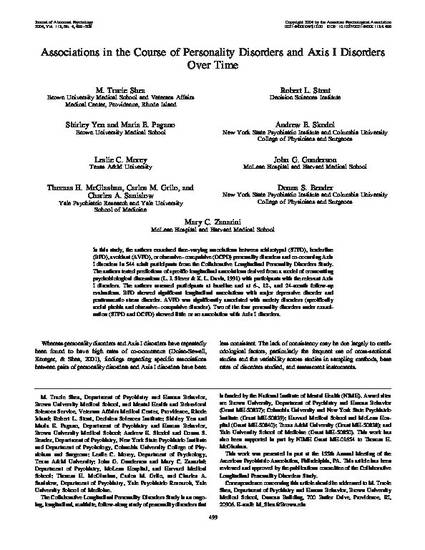 Article
Associations in the course of personality disorders and axis I disorders over time
Journal of Abnormal Psychology (2004)
Abstract
In this study, the authors examined time-varying associations between schizotypal (STPD), borderline (BPD), avoidant (AVPD), or obsessive-compulsive (OCPD) personality disorders and co-occurring Axis I disorders in 544 adult participants from the Collaborative Longitudinal Personality Disorders Study. The authors tested predictions of specific longitudinal associations derived from a model of crosscutting psychobiological dimensions (L. J. Siever & K. L. Davis, 1991) with participants with the relevant Axis I disorders. The authors assessed participants at baseline and at 6-, 12-, and 24-month follow-up evaluations. BPD showed significant longitudinal associations with major depressive disorder and posttraumatic stress disorder. AVPD was significantly associated with anxiety disorders (specifically social phobia and obsessive-compulsive disorder). Two of the four personality disorders under examination (STPD and OCPD) showed little or no association with Axis I disorders.
Keywords
CLPS,
Collaborative Longitudinal Personality Study,
Axis I,
Axis I Disorder,
pathoplasticity,
DSM,
DSM-IV,
Axis I,
Axis II,
Personality Disorders,
Borderline,
Schizotypal,
Avoidant,
Obsessive-Compulsive
Publication Date
November, 2004
Citation Information
Shea, M. T., Stout, R. L., Yen, S., Pagano, M. E., Skodol, A. E., Morey, L. C., Gunderson, J. G., McGlashan, T. H., Grilo, C. M., Sanislow, C. A., Bender, D. S., & Zanarini, M. C. (2004). Associations in the course of personality disorders and axis I disorders over time.
Journal of Abnormal Psychology, 113(4)
, 499-508.