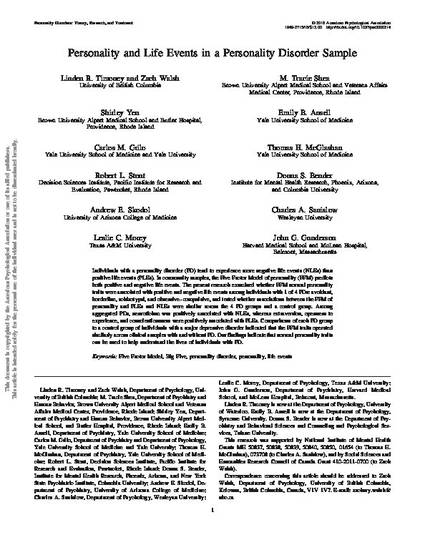 Article
Personality and Life Events in a Personality Disorder Sample
Personality Disorders: Theory, Research, and Treatment (2017)
Abstract
Individuals with a personality disorder (PD) tend to experience more negative life events (NLEs) than
positive life events (PLEs). In community samples, the Five Factor Model of personality (FFM) predicts
both positive and negative life events. The present research examined whether FFM normal personality
traits were associated with positive and negative life events among individuals with 1 of 4 PDs: avoidant,
borderline, schizotypal, and obsessive– compulsive, and tested whether associations between the FFM of
personality and PLEs and NLEs were similar across the 4 PD groups and a control group. Among
aggregated PDs, neuroticism was positively associated with NLEs, whereas extraversion, openness to
experience, and conscientiousness were positively associated with PLEs. Comparisons of each PD group
to a control group of individuals with a major depressive disorder indicated that the FFM traits operated
similarly across clinical samples with and without PD. Our findings indicate that normal personality traits
can be used to help understand the lives of individuals with PD.
Keywords
Five Factor Model,
Big Five,
personality disorder,
personality,
life events
Citation Information
Timoney, L. R., BWalsh, Z., Shea, M. T., Yen, S., Ansell, E. B., Grilo, C. M., McGlashan, T. H., Stout, R. L., Bender, D. S., Skodol, A. E., Sanislow, C. A., Morey, L. C., & Gunderson, J. G. (in press). Personality and Life Events in a Personality Disorder Sample. Personality Disorders: Theory, Research, and Treatment.