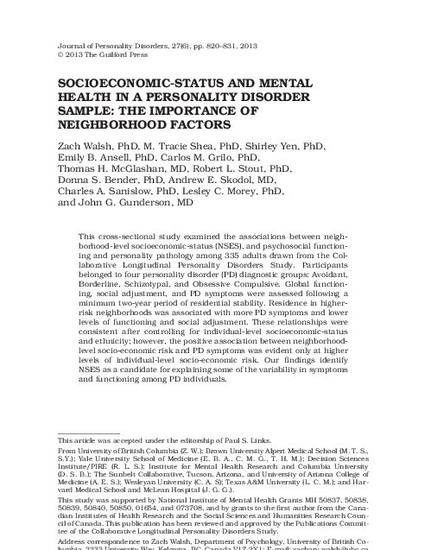 Article
Socioeconomic-status and mental health in a personality disorder sample: The importance of neighborhood factors
Journal of Personality Disorders (2013)
Abstract
This cross-sectional study examined the associations between neighborhood-level socioeconomic-status (NSES), and psychosocial functioning and personality pathology among 335 adults drawn from the Collaborative Longitudinal Personality Disorders Study. Participants belonged to four personality disorder (PD) diagnostic groups: Avoidant, Borderline, Schizotypal, and Obsessive Compulsive. Global functioning, social adjustment, and PD symptoms were assessed following a minimum two-year period of residential stability. Residence in higher-risk neighborhoods was associated with more PD symptoms and lower levels of functioning and social adjustment. These relationships were consistent after controlling for individual-level socioeconomic-status and ethnicity; however, the positive association between neighborhood-level socio-economic risk and PD symptoms was evident only at higher levels of individual-level socio-economic risk. Our findings identify NSES as a candidate for explaining some of the variability in symptoms and functioning among PD individuals.
Keywords
neighborhood- level socioeconomic-status,
Mental Illness,
Socioeconomic Status,
Mental Health,
Personality Disorders,
Functioning,
Psychosocial Functioning,
Avoidant,
Borderline,
Schizotypal,
and Obsessive Compulsive
Publication Date
December 20, 2013
Citation Information
Walsh, Z., Shea, M. T., Yen, S., Ansell, E. B., Grilo, C. M., McGlashan, T. H., Stout, R. L., Bender, D. S., Skodol, A. E., Sanislow, C. A., Morey, L. C., & Gunderson, J. G. (2013). Socioeconomic-status and mental health in a personality disorder sample: The importance of neighborhood factors.
Journal of Personality Disorders, 27
, 820-831.