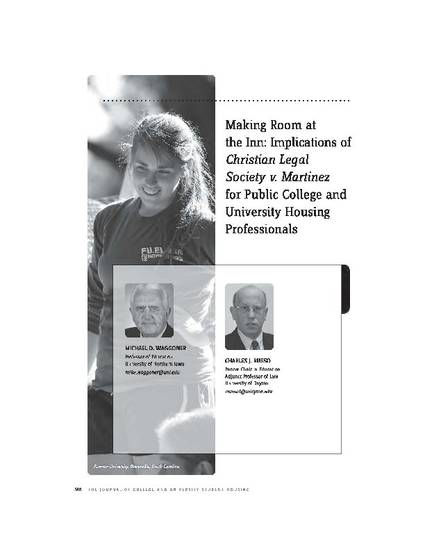 Article
Making Room at the Inn: Implications of 'Christian Legal Society v. Martinez' for Public University Housing Professionals
The Journal of College and University Student Housing
Publication Date
1-1-2014
Abstract
The Supreme Court ruling in Christian Legal Society v. Martinez, its most important case to date on student associational activities, upheld a policy at a public law school in California that required recognized student organizations (or clubs) to admit "all-comers" even if they disagreed with organizational goals and values, rather than retracing the work of Moran and her colleagues, who examined related issues such as religious expression in public areas of residence halls, this article analyzes the potential impact of CLS, since membership in campus organizations clearly overlaps with the kinds of issues that students and housing professionals deal with in their residences.
The article then reviews the facts and the Supreme Court's rationale in CLS before suggesting alternative views on its implications for housing professionals in public institutions. The focus here is on officials in public institutions because the constitutional principles involved in CLS are generally inapplicable in private colleges and universities, where the rights of their students (and staff are typically contractual in nature.
Document Version
Published Version
Copyright
Copyright © 2014, Association of College and University Housing Officers
Publisher
Association of College and University Housing Officers
Citation Information
Michael D. Waggoner and Charles J. Russo. "Making Room at the Inn: Implications of 'Christian Legal Society v. Martinez' for Public University Housing Professionals"
The Journal of College and University Student Housing
Vol. 41 Iss. 1 (2014)
Available at: http://works.bepress.com/charles_russo/38/