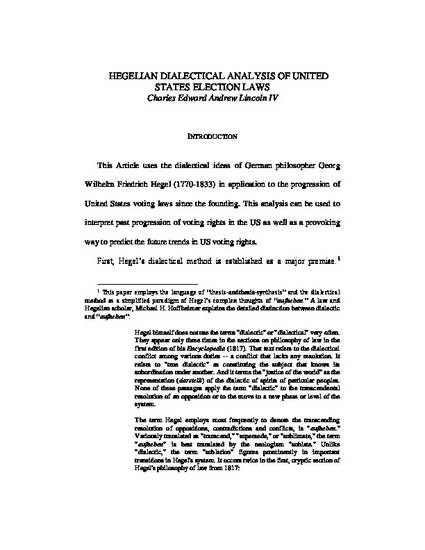 Unpublished Paper
Hegelian Dialectical Analysis of United States Election Laws
ExpressO (2015)
Abstract
This Article uses the dialectical ideas of German philosopher Georg Wilhelm Friedrich Hegel (1770-1833) in application to the progression of United States voting laws since the founding. This analysis can be used to interpret past progression of voting rights in the US as well as a provoking way to predict the future trends in US voting rights. First, Hegel's dialectical method is established as a major premise. Second, the general accepted history of United States voting laws from the 1770s to the current day is laid out as a minor premise. Third, the major premise of Hegel's dialectical method weaves and applies itself to the progression of United States voting laws to explain the progression. This third step of application suggests possible future scenarios.
Keywords
Hegel,
Philosophy,
Law,
Politics
Publication Date
August 3, 2015
Citation Information
Charles E. A. Lincoln. "Hegelian Dialectical Analysis of United States Election Laws"
ExpressO
(2015)
Available at: http://works.bepress.com/charles_lincoln/1/