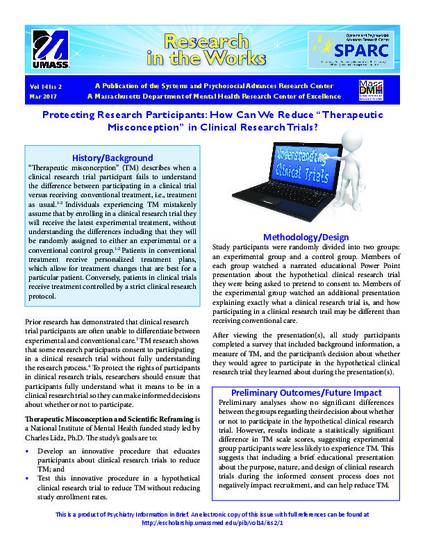 Article
Protecting Research Participants: How Can We Reduce "Therapeutic Misconception" in Clinical Research Trials?
Psychiatry Information in Brief
Document Type
Research in the Works
Abstract
Therapeutic Misconception and Scientific Reframing is a National Institute of Mental Health funded study led by Charles Lidz, Ph.D. The study's goals are to: (1) Develop an innovative procedure that educates participants about clinical research trials to reduce Therapeutic Misconception (TM); and (2) Test this innovative procedure in a hypothetical clinical research trial to reduce TM without reducing study enrollment rates.
Creative Commons License
Creative Commons Attribution-Noncommercial-Share Alike 3.0
Keywords
Therapeutic Misconception,
Clinical Trials Ethics,
Scientific Reframing
Citation Information
Charles W. Lidz, Debbie Truong, Karen Albert and Shums Alikhan. "Protecting Research Participants: How Can We Reduce "Therapeutic Misconception" in Clinical Research Trials?" (2017)
Available at: http://works.bepress.com/charles_lidz/118/