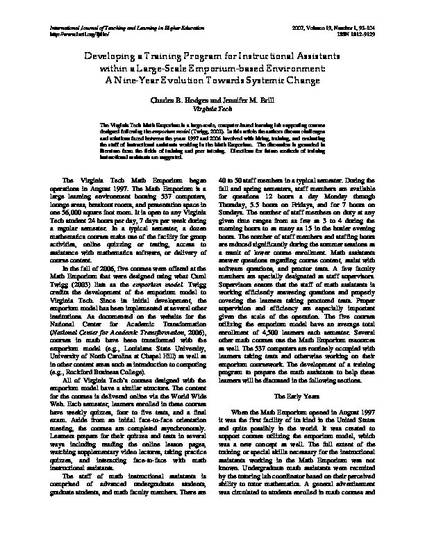 Article
Developing a Training Program for Instructional Assistants within a Large-Scale Emporium-Based Environment: A Nine-Year Evolution towards Systematic Change
International Journal of Teaching and Learning in Higher Education (2007)
Abstract
The Virginia Tech Math Emporium is a large-scale, computer-based learning lab supporting courses designed following the emporium model (Twigg, 2003). In this article the authors discuss challenges and solutions faced between the years 1997 and 2006 involved with hiring, training, and evaluating the staff of instructional assistants working in the Math Emporium. The discussion is grounded in literature from the fields of training and peer tutoring. Directions for future methods of training instructional assistants are suggested.
Keywords
Computer-based learning,
Emporium model,
Instructional assistants,
Peer tutoring,
Training program
Citation Information
Charles B. Hodges and Jennifer M. Brill. "Developing a Training Program for Instructional Assistants within a Large-Scale Emporium-Based Environment: A Nine-Year Evolution towards Systematic Change"
International Journal of Teaching and Learning in Higher Education
19.1 (2007): 93-104.
source:http://www.isetl.org/ijtlhe/pdf/IJTLHE161.pdf
Available at: http://works.bepress.com/charles_hodges/5