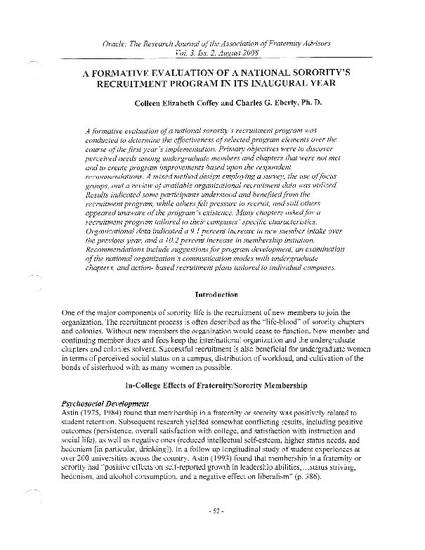 Article
A formative evaluation of a national sorority's recruitment program in its inaugural year
Oracle: The Research Journal of the Association of Fraternity Advisors (2008)
Abstract
A formative evaluation of a national sorority's recruitment program was conducted to determine the effectiveness of selected program elements over the course of the first year's implementation. Primary objectives were to discover perceived needs among undergraduate members and chapters that were not met and to create program improvements based upon the respondent recommendations. A mixed method design employing a survey, the use of focus groups, and a review of available organizational recruitment data was utilized. Results indicated some participants understood and benefitted from the recruitment program, while others felt pressure to recruit, and still others appeared unaware of the program's existence. Many chapters asked for a recruitment program tailored to their campuses' specific characteristics. Organizational data indicated a 9.1 percent increase in new member intake over the previous year, and a 10.2 percent increase in membership initiation. Recommendations include suggestions for program development, an examination of the national organization's communication modes with undergraduate chapters, and action-based recruitment plans tailored to individual campuses.
Keywords
sorority,
recruitment,
formative evaluation;
Publication Date
August, 2008
Citation Information
Colleen Elizabeth Coffey and Charles G Eberly. "A formative evaluation of a national sorority's recruitment program in its inaugural year"
Oracle: The Research Journal of the Association of Fraternity Advisors
Vol. 3 Iss. 2 (2008)
Available at: http://works.bepress.com/charles_g_eberly/24/