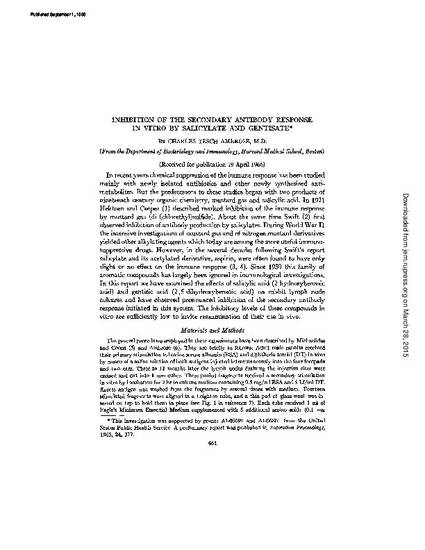 Article
Inhibition of the Secondary Antibody Response in Vitro by Salicylate and Gentisate
The Journal of Experimental Medicine (1966)
Abstract
In recent years chemical suppression of the immune response has been studied mainly with newly isolated antibiotics and other newly synthesized antimetabolites. But the predecessors to these studies began with two products of nineteenth century organic chemistry, mustard gas and salicylic acid. In 1921 Hektoen and Corper (1) described marked inhibition of the immune response by mustard gas (di-(chlorethyl)sulfide). About the same time Swift (2) first observed inhibition of antibody production by salicylates. During World War II the intensive investigations of mustard gas and of nitrogen mustard derivatives yielded other alkylating agents which today are among the more useful immunosuppressive drugs. However, in the several decades following Swift's report salicylate and its acetylated derivative, aspirin, were often found to have only slight or no effect on the immune response (3, 4). Since 1950 this family of aromatic compounds has largely been ignored in immunological investigations. In this report we have examined the effects of salicylic acid (2-hydroxybenzoic acid) and gentisic acid (2,5-dihydroxybenzoic acid) on rabbit lymph node cultures and have observed pronounced inhibition of the secondary antibody response initiated in this system. The inhibitory levels of these compounds in vitro are sufficiently low to invite reexamination of their use in vivo.
Keywords
Inhibition,
Secondary antibody response,
Salicylate,
Gentisate,
in vitro
Publication Date
September 1, 1966
Citation Information
Charles T. Ambrose. "Inhibition of the Secondary Antibody Response in Vitro by Salicylate and Gentisate"
The Journal of Experimental Medicine
Vol. 24 Iss. 3 (1966)
Available at: http://works.bepress.com/charles_ambrose/5/