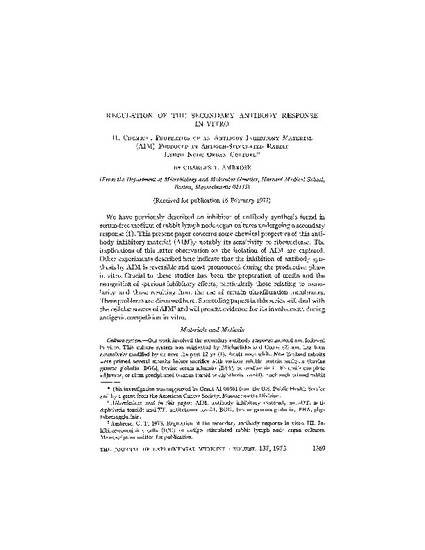 Article
Regulation of the Secondary Antibody Response in Vitro. II. Chemical Properties of an Antibody Inhibitory Material (AIM) Produced in Antigen-Stimulated Rabbit Lymph Node Organ Culture
The Journal of Experimental Medicine (1973)
Abstract
We have previously described an inhibitor of antibody synthesis found in serum-free medium of rabbit lymph node organ cultures undergoing a secondary response (1). This present paper concerns some chemical properties of this antibody inhibitory material (AIM), 1 notably its sensitivity to ribonuclease. The implications of this latter observation on the isolation of AIM are explored. Other experiments described here indicate that the inhibition of antibody synthesis by AIM is reversible and most pronounced during the productive phase in vitro. Crucial to these studies has been the preparation of media and the recognition of spurious inhibitory effects, particularly those relating to osmolarity and those resulting from the use of certain ultrafiltration membranes. These problems are discussed here. Succeeding papers in this series will deal with the cellular source of AIM 2 and will present evidence for its involvement during antigenic competition in vitro.
Keywords
Secondary antibody response,
Antibody inhibitory material,
AIM,
Rabbit,
Lymph node,
in vitro
Publication Date
June 1, 1973
Citation Information
Charles T. Ambrose. "Regulation of the Secondary Antibody Response in Vitro. II. Chemical Properties of an Antibody Inhibitory Material (AIM) Produced in Antigen-Stimulated Rabbit Lymph Node Organ Culture"
The Journal of Experimental Medicine
Vol. 137 Iss. 6 (1973)
Available at: http://works.bepress.com/charles_ambrose/3/