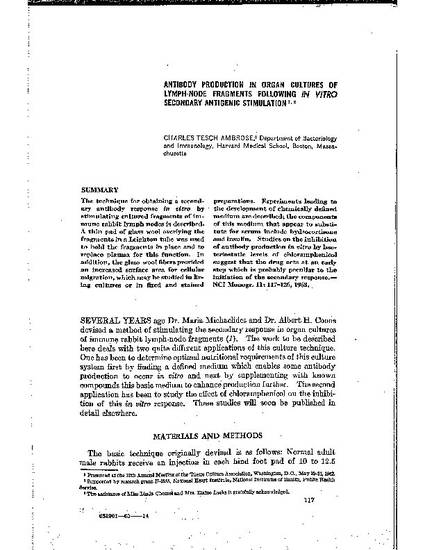 Article
Antibody Production in Organ Cultures of Lymph-Node Fragments Following in Vitro Secondary Antigenic Stimulation
National Cancer Institute Monograph (1963)
Abstract
The technique for obtaining a secondary antibody response in vitro by stimulating cultured fragments of immune rabbit lymph nodes is described. A thin pad of glass wool overlying the fragments in a Leighton tube was used to hold the fragments in place and to replace plasma for this function. In addition, the glass wool fibers provided an increased surface area for cellular migration, which may be studied in living cultures or in fixed and stained preparations. Experiments leading to the development of chemically defined medium are described; the components of this medium that appear to substitute for serum include hydrocortisone and insulin. Studies on the inhibition of antibody production in vitro by bacteriostatic levels of chloramphenicol suggest that the drug acts at an early step which is probably peculiar to the initiation of the secondary response.
Keywords
Antibody production,
Secondary antigenic stimulation,
Secondary response
Citation Information
Charles T. Ambrose. "Antibody Production in Organ Cultures of Lymph-Node Fragments Following in Vitro Secondary Antigenic Stimulation"
National Cancer Institute Monograph
Vol. 11 (1963)
Available at: http://works.bepress.com/charles_ambrose/22/