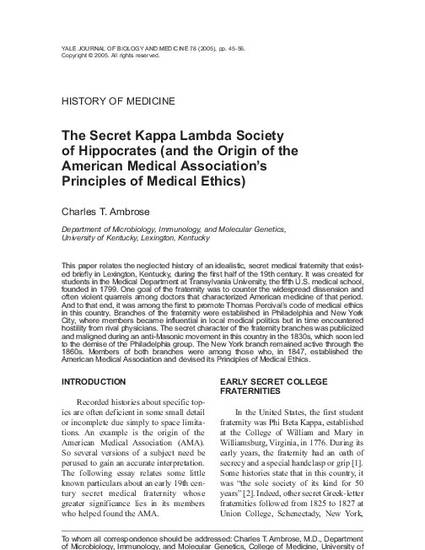 Article
The Secret Kappa Lambda Society of Hippocrates (and the Origin of the American Medical Association's Principles of Medical Ethics)
Yale Journal of Biology and Medicine
Abstract
This paper relates the neglected history of an idealistic, secret medical fraternity which existed briefly in Lexington, Kentucky, during the first half of the 19th century. It was created for students in the Medical Department at Transylvania University, the fifth US medical school, founded in 1799. One goal of the fraternity was to counter the widespread dissension and often violent quarrels among doctors that characterized American medicine of that period. And to that end, it was among the first to promote Thomas Percival's code of medical ethics in this country. Branches of the fraternity were established in Philadelphia and New York City, where members became influential in local medical politics but in time encountered hostility from rival physicians. The secret character of the fraternity branches was publicized and maligned during an anti-Masonic movement in this country in the 1830s, which soon led to the demise of the Philadelphia group. The New York branch remained active through the 1860s. Members of both branches were among those who in 1847 established the American Medical Association and devised its Principles of Medical Ethics.
Publication Date
1-1-2005
Citation Information
Charles T. Ambrose. "The Secret Kappa Lambda Society of Hippocrates (and the Origin of the American Medical Association's Principles of Medical Ethics)"
Yale Journal of Biology and Medicine
Vol. 78 Iss. 1 (2005) p. 45 - 56
Available at: http://works.bepress.com/charles_ambrose/1/