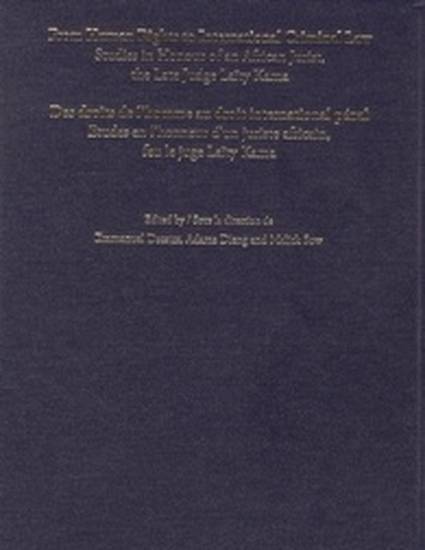 Contribution to Book
Concurrent Jurisdiction at the ICTR: Should the Tribunal Refer Cases to Rwanda?
Faculty Books
Excerpt
With mounting political pressure from the international community for the International Criminal Tribunal for Rwanda (ICTR) to wrap up all trials by 2010, in line with its Completion Strategy, this article offers an early look at the power of the ICTR Prosecutor to transfer or refer part of his caseload to national courts and the legal, political and practical limitations on the exercise of that authority. The paper briefly examines the history of the ICTR, the concurrent jurisdiction of the ICTR, the express power of referral and the practice relating to concurrent jurisdiction between international and national courts over international crimes in the jurisprudence of the International Criminal Tribunal of the former Yugoslavia. The article also investigates the legal and policy issues the ICTR currently faces in seeking to transfer cases to Rwandan courts and their ramifications. Based on the jurisprudence, the authors argue that the Prosecutor should not transfer cases to Rwanda or other national courts unless those courts can ensure the transferred suspects or accused can be charged with international crimes in fair trials in which they will not receive the death penalty if convicted.
Publication Date
1-1-2007
Publisher
Martinus Nijhoff Brill
Keywords
International Criminal Tribunal for Rwanda,
ICTR,
Completion Strategy,
jurisdiction,
concurrent jurisdiction,
Rule 11 bis,
transfers,
national courts,
Rwandan courts and domestic prosecutions,
ICTR Prosecutor,
power of transfer,
fair trial in Rwandan courts
Citation Information
Alhagi Marong, Charles C. Jalloh and David Kinnecome, Concurrent Jurisdiction at the ICTR: Should the Tribunal Refer Cases to Rwanda?, Emmanuel Decaux et al., eds., FROM HUMAN RIGHTS TO INTERNATIONAL CRIMINAL LAW: STUDIES IN HONOUR OF AN AFRICAN JURIST, THE LATE JUDGE LAITY KAMA (Martinus Nijhoff Brill, Leiden/Boston, June 2007) pp. 159-201