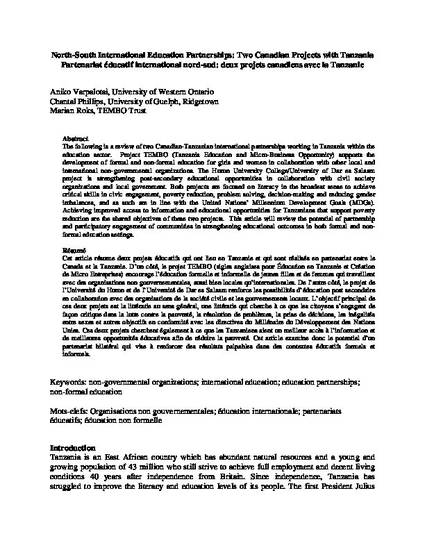 Article
North-South International Education Partnerships: Two Canadian Projects with Tanzania.
Comparative and International Education / Éducation Comparée et Internationale
Abstract
Abstract The following is a review of two Canadian-Tanzanian international partnerships working in Tanzania within the education sector. Project TEMBO (Tanzania Education and Micro-Business Opportunity) supports the development of formal and non-formal education for girls and women in collaboration with other local and international non-governmental organizations. The Huron University College/University of Dar es Salaam project is strengthening post-secondary educational opportunities in collaboration with civil society organizations and local government. Both projects are focused on literacy in the broadest sense to achieve critical skills in civic engagement, poverty reduction, problem solving, decision-making and reducing gender imbalances, and as such are in line with the United Nations' Millennium Development Goals (MDGs). Achieving improved access to information and educational opportunities for Tanzanians that support poverty reduction are the shared objectives of these two projects. This article will outline some of the methods which have been used to successfully offer access and educational opportunities despite ongoing challenges and constraints within the project environments.
Creative Commons License
Creative Commons Attribution 3.0
Citation Information
Aniko Varpalotai, Chantal Phillips and Marian Roks. "North-South International Education Partnerships: Two Canadian Projects with Tanzania." p. North-South International Education Partnerships: - Tanzanian Ministry of Education and Vocational Training, Basic Education Statistics (2010) National Table 2.3 Transition from Primary Education to Secondary Education, 1961 - 2009 (Selected Years) [ Data file]. Retrieved from http://moe.go.tz/statistics.html .
Available at: http://works.bepress.com/chantal_phillips/1/