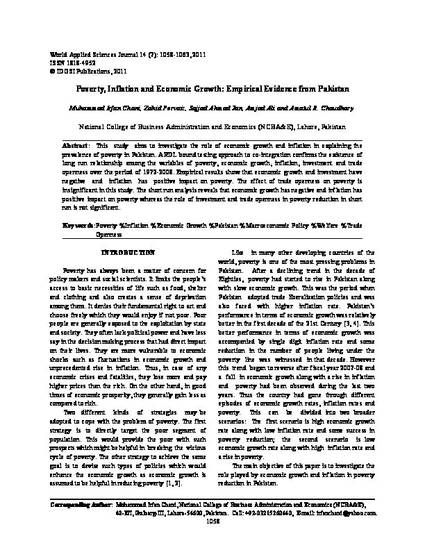 Article
Poverty, Inflation and Economic Growth: Empirical Evidence from Pakistan
World Applied Sciences Journal (2011)
Abstract
This study aims to investigate the role of economic growth and inflation in explaining the prevalence of poverty in Pakistan. ARDL bound testing approach to co-integration confirms the existence of long run relationship among the variables of poverty, economic growth, inflation, investment and trade openness over the period of 1972-2008. Empirical results show that economic growth and investment have negative and inflation has positive impact on poverty. The effect of trade openness on poverty is insignificant in this study. The short run analysis reveals that economic growth has negative and inflation has positive impact on poverty whereas the role of investment and trade openness in poverty reduction in short run is not significant.
Keywords
Poverty,
Inflation,
Economic Grovvth,
Pakistan,
Macroeconomic Policy,
Welfare,
Trade Openness
Citation Information
Muhammad Irfan Chani, Zahid Pervaiz, Sajjad Ahmad Jan, Amjad Ali, et al.. "Poverty, Inflation and Economic Growth: Empirical Evidence from Pakistan"
World Applied Sciences Journal
Vol. 14 Iss. 7 (2011)
Available at: http://works.bepress.com/chani/7/