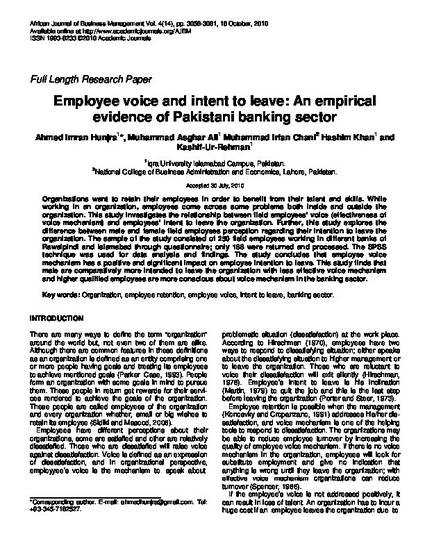 Article
Employee Voice and Intent to Leave: An Empirical Evidence of Pakistani Banking Sector
African Journal of Business Management (2010)
Abstract
Organizations want to retain their employees in order to benefit from their talent and skills. While working in an organization, employees come across some problems both inside and outside the organization. This study investigates the relationship between field employees' voice (effectiveness of voice mechanism) and employees' intent to leave the organization. Further, this study explores the difference between male and female field employees perception regarding their intention to leave the organization. The sample of the study consisted of 250 field employees working in different banks of Rawalpindi and Islamabad through questionnaire; only 188 were returned and processed. The SPSS technique was used for data analysis and findings. The study concludes that employee voice mechanism has a positive and significant impact on employee intention to leave. This study finds that male are comparatively more intended to leave the organization with less effective voice mechanism and higher qualified employees are more conscious about voice mechanism in the banking sector.
Citation Information
Ahmed Imran Hunjra, Muhammad Asghar Ali, Muhammad Irfan Chani, Hashim Khan, et al.. "Employee Voice and Intent to Leave: An Empirical Evidence of Pakistani Banking Sector"
African Journal of Business Management
Vol. 4 Iss. 14 (2010)
Available at: http://works.bepress.com/chani/4/