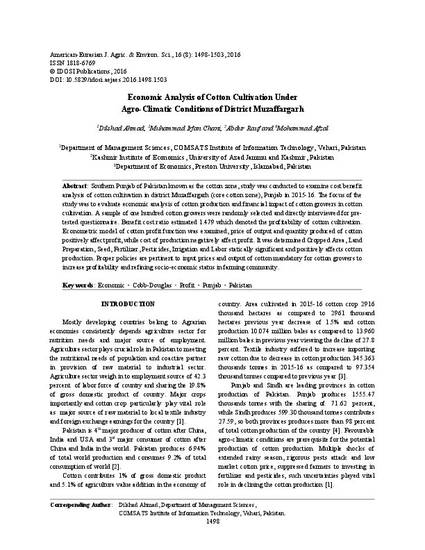 Article
Economic Analysis of Cotton Cultivation Under Agro-Climatic Conditions of District Muzaffargarh
American-Eurasian Journal of Agricultural & Environmental Sciences (2016)
Abstract
Southern Punjab of Pakistan known as the cotton zone, study was conducted to examine cost benefit analysis of cotton cultivation in district Muzaffargarh (core cotton zone), Punjab in 2015-16. The focus of the study was to evaluate economic analysis of cotton production and financial impact of cotton growers in cotton cultivation. A sample of one hundred cotton growers were randomly selected and directly interviewed for pre-tested questionnaire. Benefit cost ratio estimated 1.479 which denoted the profitability of cotton cultivation. Econometric model of cotton profit function was examined, price of output and quantity produced of cotton positively affect profit, while cost of production negatively affect profit. It was determined Cropped Area, Land Preparation, Seed, Fertilizer, Pesticides, Irrigation and Labor statically significant and positively affects cotton production. Proper policies are pertinent to input prices and output of cotton mandatory for cotton growers to increase profitability and refining socioeconomic status in farming community.
Publication Date
Summer 2016
DOI
10.5829/idosi.aejaes.2016.1498.1503
Citation Information
Muhammad Irfan Chani, Dilshad Ahmad, Abdur Rauf and Mohammad Afzal. "Economic Analysis of Cotton Cultivation Under Agro-Climatic Conditions of District Muzaffargarh"
American-Eurasian Journal of Agricultural & Environmental Sciences
Vol. 16 Iss. 8 (2016) p. 1498 - 1503 ISSN: 1818-6769
Available at: http://works.bepress.com/chani/14/