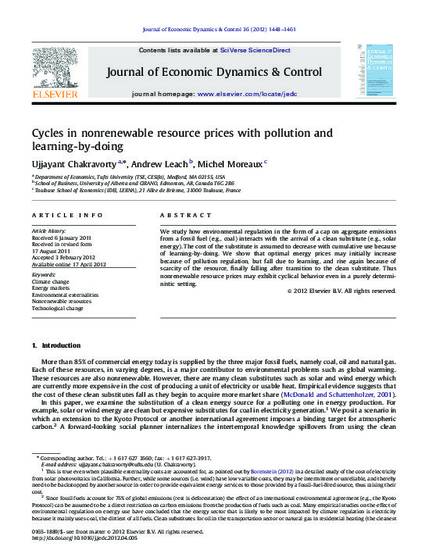 Article
Cycles in nonrenewable resource prices with pollution and learning-by-doing
Journal of Economic Dynamics and Control (2012)
Abstract
We study how environmental regulation in the form of a cap on aggregate emissions from a fossil fuel (e.g., coal) interacts with the arrival of a clean substitute (e.g., solar energy). The cost of the substitute is assumed to decrease with cumulative use because of learning-by-doing. We show that optimal energy prices may initially increase because of pollution regulation, but fall due to learning, and rise again because of scarcity of the resource, finally falling after transition to the clean substitute. Thus nonrenewable resource prices may exhibit cyclical behavior even in a purely deterministic setting.
Keywords
Climate change,
Energy markets,
Environmental externalities,
Nonrenewable resources,
Technological change
Citation Information
Ujjayant N Chakravorty, Andrew Leach and Michel Moreaux. "Cycles in nonrenewable resource prices with pollution and learning-by-doing"
Journal of Economic Dynamics and Control
(2012)
Available at: http://works.bepress.com/chakravorty/8/