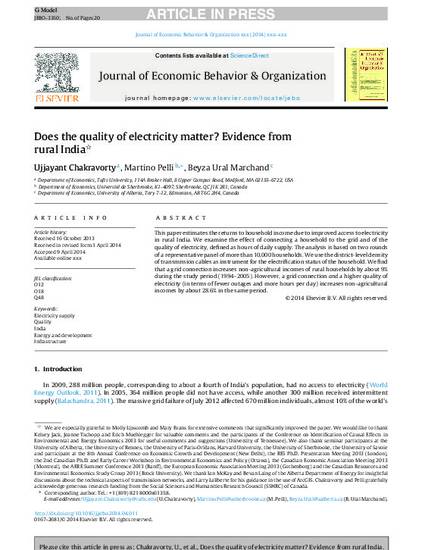 Article
Does the Quality of Electricity Matter? Evidence from Rural India
Journal of Economic Behavior and Organization (2014)
Abstract
This paper estimates the returns to household income due to improved access to electricity in rural India. We examine the effect of connecting a household to the grid and of the quality of electricity, defined as hours of daily supply. The analysis is based on two rounds of a representative panel of more than 10,000 households. We use the district-level density of transmission cables as instrument for the electrification status of the household. We find that a grid connection increases non-agricultural incomes of rural households by about 9 percent during the study period (1994-2005). However, a grid connection and a higher quality of electricity (in terms of fewer outages and more hours per day) increases non-agricultural incomes by about 28.6 percent in the same period.
Keywords
Electricity Supply,
Quality,
India,
Energy and Development,
Infrastructure
Citation Information
Ujjayant Chakravorty, Martino Pelli and Beyza Ural Marchand. "Does the Quality of Electricity Matter? Evidence from Rural India"
Journal of Economic Behavior and Organization
(2014)
Available at: http://works.bepress.com/chakravorty/7/