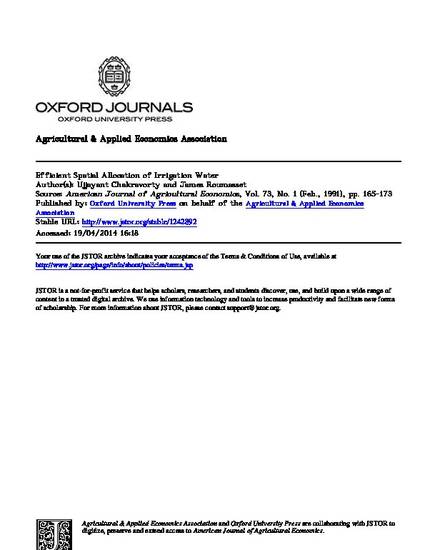 Article
Efficient Spatial Allocation of Irrigation Water
American Journal of Agricultural Economics (1991)
Abstract
In the presence of conveyance losses, the efficient quantity of water applied falls with distance from the water source, but the amount of water "sent" (including conveyance losses) actually increases with distance from the source, except toward the tail end of the irrigation system. This implies that if marginal cost pricing were implemented, farmers at the middle and lower reaches of the system would have to pay more money for less water received. The model is illustrated and alternative financing schemes compared for an empirically derived demand function for irrigation water.
Keywords
benefit taxation,
conveyance losses,
irrigation,
spatial efficiency,
water
Citation Information
Ujjayant N Chakravorty and James Roumasset. "Efficient Spatial Allocation of Irrigation Water"
American Journal of Agricultural Economics
(1991)
Available at: http://works.bepress.com/chakravorty/33/